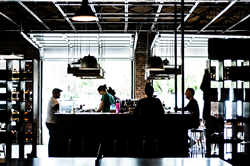 Hospitality workers play an essential part in the lives of travelers, vacationers, and restaurant visitors around the world
WEST PALM BEACH, Fla. (PRWEB) April 14, 2020
ABC's "Black-ish" star, Laurence Fishburne, is a wielder of many talents, which includes the role of host for the informational show "In Depth". The program showcases a wide variety of subjects spanning from the business sector to the latest developments in technology. A new episode with take a turn into the educational arena and will feature online training options for the hospitality industry.
The hospitality industry ranges from hotels, the food and beverage arena, and the travel realm. It is a massive industry with numerous career opportunities.
As the overall field of schooling evolves and shifts more towards a virtual experience, as does education in the hospitality field. Many future and current hospitality workers are obtaining their certification through online courses. This variety of training provides a flexible, and often less expensive, way of learning. Numerous students maintain regular 40-hour work weeks in addition to raising kids and leading personal lives, which is why a pliant course load is appealing.
Hospitality workers play an essential part in the lives of travelers, vacationers, and restaurant visitors around the world. Without their expertise, these experiences would not be what they are known to be today. "In Depth" with Laurence Fishburne will further discuss online training options for the hospitality industry in the upcoming episode.
"In Depth" with Laurence Fishburne is cautiously inspected before broadcast to a broader viewing audience. The informational show has received several accolades for its endeavors.