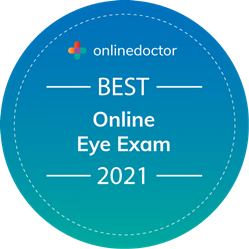 SEATTLE (PRWEB) March 05, 2021
OnlineDoctor.com, a trusted source for content and information about online medical and healthcare services, has announced the best online eye exam services of 2021. The study examines core features and ranks the top 5 providers from across various categories.
Experts at OnlineDoctor.com recommend services that offer basic vision screenings or comprehensive eye exams. Providers were required to offer minimal setup with quick turnaround time for results. Each platform was also expected to provide a board-certified optometrist to review results and confirm prescriptions for glasses or contact lenses.
"Online eye exams are ideal for some individuals who need to renew prescriptions," says Mitchell Fong. "Our guide can help narrow the search for the best providers and educate consumers about available exam options and must-have features."
OnlineDoctor.com used a 100-point scoring system to assess each service for ease of use, convenience, technology, personalization as well as an overall score. To access the complete list of best online eye exam services of 2021, please visit https://www.onlinedoctor.com/best-online-eye-exams/.
Best Online Eye Exam Services of 2021
1-800-Contacts – Best Overall
Lensabi – Best for Eyeglass Prescriptions
Lens.com – Best Customer Satisfaction Guarantee
Essilor – Best Vision Screening
Zeiss Vision Care – Runner-up: Best Vision Screening
ABOUT ONLINEDOCTOR.COM
Onlinedoctor.com provides the latest content, advice, and information about online medical services and healthcare options. The patient-focused platform was developed to help consumers make informed decisions about their health. Managed by a team of industry experts, the website is a leading source for unbiased articles and data-driven research. Onlinedoctor.com is headquartered in Seattle, Washington and is formerly known as OnlineMedicalCare.org. To learn more, visit https://www.onlinedoctor.com/.