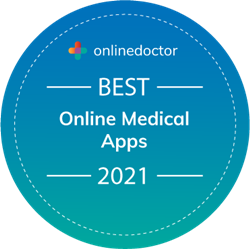 SEATTLE, Wash. (PRWEB) January 29, 2021
OnlineDoctor.com, a trusted source for content and information about online medical and healthcare services, has announced the best online medical apps of 2021. The study examined systems based on several key criteria and customer feedback.
The high-ranking platforms were expected to offer optimal platform accessibility, service availability, and communication methods. Research experts prioritized mobile applications that are compatible with all smart devices and can be accessed through a website. Additional requirements include apps that provide multiple services and allow users to engage via video, phone chat, secure messaging, live chat, and more.
"We've seen more people using mobile health apps to manage their physical and mental health," says Mitchell Fong, MPH. "Our goal is to provide unbiased reviews of the most effective online medical apps so that consumers can choose the best options for their needs."
OnlineDoctor.com used a 100-point scoring system to assess each service for ease of use, convenience, technology, personalization as well as an overall score. To access the complete list of best online medical apps of 2021, please visit https://www.onlinedoctor.com/15-best-online-medical-apps-that-make-personal-health-easier/.
Best Online Medical Apps of 2021
Doctor On Demand – Best Telehealth App
Teladoc – Most Affordable On-Demand Care
Amwell – Best for Insurance Coverage
Heal – Best for Doctor House Calls
Talkspace – Best Therapy App
First Derm – Best Dermatology Services App
Maven – Best Women's Healthcare App
ZocDoc – Best Appointment Scheduling App
Fitbit – Best Activity Tracker App
GoodRx – Best for Prescription Discounts
Medisafe – Best Medication Reminder App
Healow – Best Health Records Management App
MyChart – Best Patient Portal App
WebMD – Best Medical Resource App
ABOUT ONLINEDOCTOR.COM
Onlinedoctor.com provides the latest content, advice, and information about online medical services and healthcare options. The patient-focused platform was developed to help consumers make informed decisions about their health. Managed by a team of industry experts, the website is a leading source for unbiased articles and data-driven research. Onlinedoctor.com is headquartered in Seattle, Washington and is formerly known as OnlineMedicalCare.org. To learn more, visit https://www.onlinedoctor.com/.