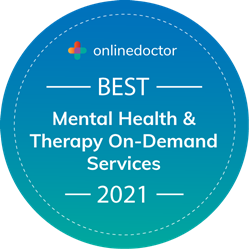 SEATTLE (PRWEB) March 01, 2021
OnlineDoctor.com, a trusted source for content and information about online medical and healthcare services, has announced the best mental health and therapy on-demand services of 2021. Research experts evaluated numerous platforms based on several key factors and across various categories.
Top providers were expected to offer a variety of communication channels, including phone calls, video chats, instant messaging, and more. The final list prioritized services that cater to specific populations and offer specialized treatments for anxiety, depression, addiction, and other mental health disorders. It was also crucial that each solution provides tools that match patients with counselors and give patients the option to switch if it's not a good fit.
"Considering the impact of the pandemic, it's more important than ever that people have access to convenient and affordable mental health care," says Mitchell Fong. "This guide includes top on-demand mental health and therapy services with unbiased feedback from customers."
OnlineDoctor.com used a 100-point scoring system to assess each service for ease of use, convenience, technology, personalization as well as an overall score. To access the complete list of best mental health and therapy on-demand services of 2021, please visit https://www.onlinedoctor.com/best-online-mental-health-therapy-on-demand-services/.
Top 5 Mental Health and Therapy On-Demand Services of 2021
BetterHelp — Best Overall
Talkspace — Best for Convenient Communication
Amwell — Best for Insurance Coverage
MDLive — Best for Medication Management
Pride Counseling — Best for LGBTQ+
ABOUT ONLINEDOCTOR.COM
Onlinedoctor.com provides the latest content, advice, and information about online medical services and healthcare options. The patient-focused platform was developed to help consumers make informed decisions about their health. Managed by a team of industry experts, the website is a leading source for unbiased articles and data-driven research. Onlinedoctor.com is headquartered in Seattle, Washington and is formerly known as OnlineMedicalCare.org. To learn more, visit https://www.onlinedoctor.com/.