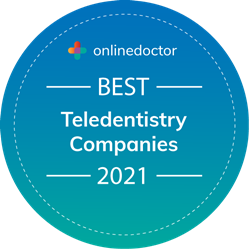 SEATTLE (PRWEB) March 01, 2021
OnlineDoctor.com, a trusted source for content and information about online medical and healthcare services, has announced the best teledentistry companies of 2021. The study focuses on three core features and includes unbiased feedback from customers.
Experts at OnlineDoctor.com recommend services that are HIPAA-compliant with data encryption to secure patient information. Providers were also expected to offer multiple communication channels, including video, phone, live chat or text messaging, and email for consultations. It was critical that these platforms offer the convenience of scheduling appointments or requesting on-demand care.
"Studies show that 42 percent of adults don't get routine dental care because of financial or time limitations," says Mitchell Fong. "Our guide was developed to help people find convenient and secure teledentistry services."
OnlineDoctor.com used a 100-point scoring system to assess each service for ease of use, convenience, technology, personalization as well as an overall score. To access the complete list of best teledentistry services of 2021, please visit https://www.onlinedoctor.com/best-teledentistry-companies/.
Best Teledentistry Services of 2021
Live Dentist — Best Overall
DentalChat — Most Affordable
Denteractive — Best for 24/7 Care
Virtudent, Inc. — Best Employee Dental Plan
Aspen Dental — Best for Insurance Coverage
Toothpic — Best Educational Resources
The TeleDentists — Best for Finding an In-Person Dentist
Dentulu — Best for Concierge Dentistry
Smile Virtual — Best for Cosmetic Dentistry
Alpha Dental Excellence — Best for Second Opinions
ABOUT ONLINEDOCTOR.COM
Onlinedoctor.com provides the latest content, advice, and information about online medical services and healthcare options. The patient-focused platform was developed to help consumers make informed decisions about their health. Managed by a team of industry experts, the website is a leading source for unbiased articles and data-driven research. Onlinedoctor.com is headquartered in Seattle, Washington and is formerly known as OnlineMedicalCare.org. To learn more, visit https://www.onlinedoctor.com/.