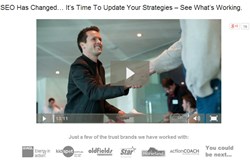 We focus on what's important: profit.
Melbourne, VIC (PRWEB) January 29, 2014
Over the past year, the search engine optimisation (SEO) industry has experienced a significant change that's effected countless businesses across the globe. Leaders in the online marketing space, Melbourne SEO Services, has recently released a web video discussing these changes. SEO and marketing expert David Jenyns points out how the changes will affect businesses, as well as offers up a tempting and non-obligatory solution to keep them from falling behind. "Our new Market Authority package isn't just about rankings, it's an all encompassing strategy to help businesses get the exposure they need online, and become the authority in their niche" says David.
In the new video, David explains that "SEO as we know it has changed forever" and goes on to explain how many of his cohorts "have it wrong. They focus on links instead of revenue." This innovative shift in online marketing strategies for 2014 is setting Melbourne SEO Services apart from their peers.
The company director, who also oversees the online marketing company's sister business, Melbourne Video Production, goes on to say, "We focus on what's important: profit. And that's what businesses need to be focused on, instead of how many links they can purchase. What's more, those links can even do a website harm if they're not high quality."
David further explains that all he cares about is how much revenue and profit he can drive to a business's website. He says, "the game has changed, businesses need to dominate their marketplace. So then, no matter what Google throws at their site, it won't affect them."
The online marketing expert then says getting on the right track is very easy, "it starts with an initial consult with me. I'll create a strategic plan to position the business as a market leader, and there's no strings attached."
After the complimentary consultation, the business owner can choose to implement the marketing plan themselves, or sign up to become one of Melbourne SEO Services' Market Authority clients, or "in the unlikely and unprecedented event they felt like the consult was a waste of time, I'll generously compensate them for it."
David exclaims that "if businesses don't pick up this new way of online marketing soon, they'll fall further and further behind. I offer a 'get out of jail' card for them, with no obligation." The newly released video explains the David's offer in more detail, click here to watch it in full and to learn how to become a market leader.
About Melbourne SEO
MelbourneSEOServices.com is a full service online marketing consultancy, based in Australia, but with a worldwide client base. Known for being at the cutting edge of strategic online marketing practices, the company delivers a growing suite of services including: on-page and off-page search engine optimisation, article distribution, Google Places listing, press release services, web video production, one-on-one consulting and much more.
Melbourne SEO Services Director, David Jenyns, has, over several years, built a team of experts who are niche experts to support the business, and who share his ethos for ethical, professional internet marketing.