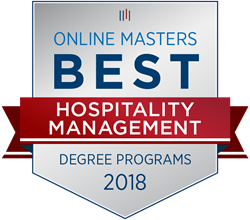 SEATTLE (PRWEB) October 10, 2018
OnlineMasters.com, an industry-leading educational research organization, announces the release of their Best Online Master's in Hospitality Management Programs for 2018. They have identified the top 10 programs in the nation that are the best in the areas of curriculum quality, program flexibility, affordability, and graduate outcomes.
Leveraging an exclusive data set comprised of interviews and surveys from current students and alumni in addition to insights gained from human resource professionals; every online degree program was analyzed with 10 making it to the final 2018 list. The methodology incorporates the most recent data from the Integrated Postsecondary Education Data System (IPEDS) and statistical data from the National Center for Education Statistics. Most importantly, only programs from accredited nonprofit institutions were eligible.
"Our research shows that professionals in the leisure and hospitality sector are experiencing rapid growth," stated Barbara Montgomery, Program Recognition Manager. "With employment projected to increase by 1 million jobs, to almost 15.7 million — between 2014 and 2024." This is just one of the many reasons OnlineMasters.com researched, analyzed, and ranked the top 10 Master's in Hospitality Management Degree Programs. View the complete ranking at: https://www.onlinemasters.com/best-degree-programs/hospitality-management/
2018 Best Master's in Hospitality Management Programs (in alphabetical order):
Florida Atlantic University
Florida International University
Johnson & Wales University
Purdue University
Roosevelt University
University of Central Florida
University of Houston
University of Nevada-Las Vegas
University of New Orleans
University of North Texas
About OnlineMasters.com
OnlineMasters.com provides proprietary and unbiased research to help students discover their options for the best graduate programs. The organization aims to inspire students to think big and make an impact in society through the pursuit of higher education. With user-friendly guides and hundreds of program rankings, OnlineMasters.com enables students to make informed decisions about earning a master's degree online.