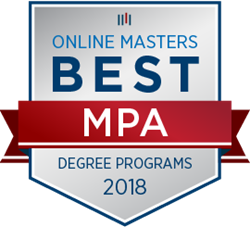 SEATTLE (PRWEB) October 03, 2018
OnlineMasters.com, a leading educational research organization, announced the release of their Top Online Master's in Public Administration Programs for 2018. The study identified 50 programs, from across the nation, that ranked the highest in the areas of curriculum quality, program flexibility, affordability, and graduate outcomes.
The research firm leveraged exclusive information based on interviews and surveys with current students and alumni, insights from human resources professionals from governmental agencies as well as not-for-profit entities. Each online public administration degree program was evaluated with 50 programs making it to the final 2018 list. The methodology incorporates the most recent data from the Integrated Postsecondary Education Data System (IPEDS) and statistical data from the National Center for Education Statistics. Most importantly, only programs from accredited nonprofit institutions were eligible.
According to the Bureau of Labor Statistics, the growing demand for graduates with advanced degrees in this area is primarily due to an increase in the US population and growth of the nonprofit sector.
"Our research shows that qualified candidates are in great demand in public, private, not-for-profit, and governmental sectors," says Barbara Montgomery, Program Recognition Manager at OnlineMasters.com. "Demand is especially strong for specialized workers in areas related to public health, information security, public policy research, law enforcement, and compliance."
This research demonstrates OnlineMasters.com's commitment to helping students and professionals make informed-decisions in a rapidly changing world. View the complete ranking at: https://www.onlinemasters.com/best-degree-programs/mpa/
2018 Best Online Master's in Public Administration Degree Programs (in alphabetical order):
American University
Arkansas State University
Barry University
Brandman University
California State University - Long Beach
California State University - Northridge
California State University - San Bernardino
California State University Dominguez Hills
Centenary University
Clark University
Clemson University
East Carolina University
Excelsior College
Florida International University
Fort Hays State University
Georgia College & State University
Golden Gate University - San Francisco
Indiana University - Bloomington
Johns Hopkins University
Liberty University
Lindenwood University
Marist College
National University
Northeastern University
Northwestern University
Norwich University
Nova Southeastern University
Old Dominion University
Rutgers University - Newark
San Diego State University
Seton Hall University
Texas A&M International University
Texas A&M University - College Station
The University of Alabama
The University of Texas at Arlington
The University of Texas Rio Grande Valley
The University of West Florida
Touro University Worldwide
University of Baltimore
University of Central Florida
University of Colorado Denver/Anschutz Medical Campus
University of Delaware
University of Illinois at Springfield
University of Miami
University of Missouri-Columbia
University of Montana
University of North Carolina at Chapel Hill
University of San Francisco
University of Southern California
Villanova University
About OnlineMasters.com
OnlineMasters.com was founded on the guiding principle that higher education offers its truest societal impact when students are empowered to align their career aspirations with their educational endeavors. Visitors of OnlineMasters.com can find tools that were developed through proprietary data, user-friendly guides, and hundreds of independent program rankings.
For more information contact:
Barbara Montgomery
Program Recognition Manager
1-800-964-6574