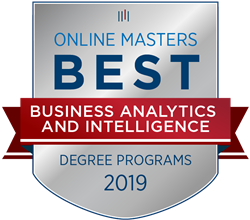 SEATTLE (PRWEB) February 08, 2019
OnlineMasters.com, a trusted source for unbiased college rankings and higher education planning, announced the release of their Best Online Master's in Business Analytics and Intelligence Programs for 2019. The research identifies the top programs in the nation based on curriculum quality, program flexibility, affordability, and graduate outcomes.
In addition to insights gained from industry professionals, OnlineMasters.com leveraged an exclusive data set comprised of interviews and surveys from current students and alumni. Each online degree program was analyzed with only 15 making it to the final list. The methodology incorporates the most recent data from the Integrated Postsecondary Education Data System (IPEDS) and statistical data from the National Center for Education Statistics. Most importantly, only programs from accredited nonprofit institutions were eligible.
"Based on our research, business intelligence has become a top priority for enterprise business leaders over the last few years," says Barbara Montgomery, Program Recognition Manager. "Additionally, earning an advanced degree is also a necessity as entry-level positions often require a master's degree."
Students who pursue a master's in business analytics and intelligence can also gain employment as network security managers, data analysts or financial analysts. The steady job growth in this market is just one of the many reasons OnlineMasters.com researched, analyzed, and ranked the Top Master's in Business Analytics and Intelligence programs. To access the complete ranking, please visit https://www.onlinemasters.com/best-degree-programs/business-analytics-and-intelligence/
2019 Best Master's in Business Analytics and Intelligence Degree Programs (in alphabetical order):
Arizona State University
Bellevue University
Boston University
Brandeis University
Carnegie Mellon University
Creighton University
Indiana University Bloomington
Lewis University
Maryville University
Penn State World Campus
Saint Joseph's University
Saint Mary's University of Minnesota
Stevens Institute of Technology
Syracuse University
University of Colorado Denver
About OnlineMasters.com
OnlineMasters.com provides proprietary and unbiased research to help students discover their options for the best graduate programs. The organization aims to inspire students to think big and make an impact in society through the pursuit of higher education. With user-friendly guides and hundreds of program rankings, OnlineMasters.com enables students to make informed decisions about earning a master's degree online.