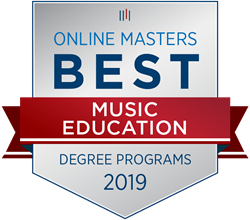 SEATTLE (PRWEB) November 09, 2018
OnlineMasters.com, a trusted source for unbiased college rankings and higher education planning, has announced the release of the best online master's in music education programs in the United States. The top-ranked programs were selected based on curriculum, program flexibility, affordability, and graduate outcomes.
The research organization analyzed graduate schools across the country with only the top 36 making it to the final 2019 list. In addition to interviews and surveys from current students and alumni, they also leveraged insight gained from human resource professionals. The methodology incorporates the most recent data from the Integrated Postsecondary Education Data System (IPEDS) and statistical data from the National Center for Education Statistics. Most importantly, only programs from accredited nonprofit institutions were eligible.
"U.S. Bureau of Labor Statistics show the career opportunities for teachers with graduate level education will continue to grow at a rate of 15% for foreseeable future" stated Barbara Montgomery, Program Recognition Manager. This is just one of the many reasons OnlineMasters.com researched, analyzed, and ranked the top Master's In Music Education Programs. View the complete ranking at: https://www.onlinemasters.com/best-degree-programs/education/music-education/
2019 Master's In Music Education Programs (in alphabetical order):
Adams State University
Anderson University
Auburn University
Boston University
Bowling Green State University
Campbellsville University
Colorado State University-Fort Collins
East Carolina University
Eastern Kentucky University
Emporia State University
Georgia College & State University
Illinois State University
Kent State University at Kent
Liberty University
Lindenwood University
New Mexico State University
North Greenville University
Northern State University
Rutgers University-New Brunswick
Southern Utah University
Stephen F. Austin State University
SUNY Buffalo State
Tarleton State University
University at Buffalo
University of Florida
University of Georgia
University of Hawaii at Manoa
University of Montana
University of Nebraska at Kearney
University of North Carolina at Greensboro
University of Northern Colorado
University of Northern Iowa
University of South Florida-Main Campus
University of Southern Mississippi
University of West Georgia
William Carey University
About OnlineMasters.com
OnlineMasters.com provides proprietary and unbiased research to help students discover their options for the best graduate programs. The organization aims to inspire students to think big and make an impact in society through the pursuit of higher education. With user-friendly guides and hundreds of program rankings, OnlineMasters.com enables students to make informed decisions about earning a master's degree online.