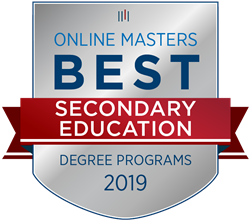 SEATTLE (PRWEB) March 08, 2019
OnlineMasters.com, a trusted source for unbiased college rankings and higher education planning, announced the release of their Best Online Master's in Secondary Education Programs for 2019. The research identifies the top programs in the nation based on curriculum quality, program flexibility, affordability, and graduate outcomes.
In addition to insights gained from industry professionals, OnlineMasters.com leveraged an exclusive data set comprised of interviews and surveys from current students and alumni. Each online degree program was analyzed with only 46 making it to the final list. The methodology incorporates the most recent data from the Integrated Postsecondary Education Data System (IPEDS) and statistical data from the National Center for Education Statistics. Most importantly, only programs from accredited nonprofit institutions were eligible.
"Teachers are always in demand, and professionals with an advanced degree in secondary education have the potential to earn higher salaries," says Barbara Montgomery, Program Recognition Manager.
Students who pursue a master's in secondary education typically gain employment as middle or high school teachers, while others take on roles in administration and curriculum development. The steady job growth in this market is just one of the many reasons OnlineMasters.com researched, analyzed, and ranked the Top Master's in Secondary Education programs. To access the complete ranking, please visit https://www.onlinemasters.com/best-degree-programs/education/secondary-education/
2019 Best Master's in Secondary Education Degree Programs (in alphabetical order):
American College of Education
Ball State University
Black Hills State University
Brandman University
California State University - Fullerton
California University of Pennsylvania
Chaminade University of Honolulu
Columbus State University
DePaul University
Emporia State University
Georgia Southern University
Grand Canyon University
Kennesaw State University
Liberty University
Mercy College
Mississippi State University
North Carolina State University
Northern Arizona University
Northwestern State University of Louisiana
Old Dominion University
Saint Joseph's University
San Diego State University
Southern Arkansas University
Texas State University
University of Alabama
University of Alabama in Huntsville
University of Arkansas at Monticello
University of Central Missouri
University of Hawaii at Manoa
University of Louisiana Monroe
University of Maine
University of Maryland University College
University of Nebraska at Kearney
University of New Mexico
University of North Carolina at Charlotte
University of North Carolina Wilmington
University of North Texas
University of Northern Iowa
University of Saint Francis
University of South Alabama
University of Southern California
University of the Cumberlands
University of West Alabama
Western Kentucky University
William Carey University
Wisconsin Lutheran College
About OnlineMasters.com
OnlineMasters.com provides proprietary and unbiased research to help students discover their options for the best graduate programs. The organization aims to inspire students to think big and make an impact in society through the pursuit of higher education. With user-friendly guides and hundreds of program rankings, OnlineMasters.com enables students to make informed decisions about earning a master's degree online.