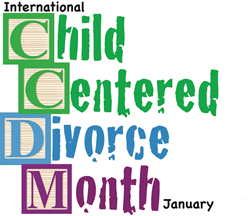 Carson City, Nevada (PRWEB) January 23, 2014
In January, OnlineParentingPrograms.com is joining many of the world's top divorce professionals in providing complimentary guidance to help parents make the best decisions on behalf of their children during and after divorce.
OnlineParentingPrograms.com is proud to be participating once again in commemorating International Child-Centered Divorce Month. Each year January is devoted to alerting parents about the effects of divorce on children – especially the impact of parental divorce decisions on their children's emotional, physical and psychological well-being.
Divorce attorneys, mediators, therapists, financial planners, coaches, parenting experts and other professionals around the world are providing gifts that offer advice and insights to help parents better understand the consequences of divorce on children and the options available regarding successful co-parenting. Our Family Wizard, an online resource providing shared custody calendars and visitation schedules for co-parents, is the featured sponsor for ICCD Month activities.
In January, after the holiday season is over, more divorces are filed than in any other month. That's why the Child-Centered Divorce Network chose January to commemorate ICCD Month each year. The purpose is to support parents in making positive, child-centered decisions during and after separation or divorce.
A special website is available throughout the month that gives divorcing or divorced parents access to complimentary ebooks, coaching services, videos, audio programs and other valuable gifts by simply clicking links. Parents can also listen to expert interviews and attend no-cost workshops, teleseminars, webinars and other special events scheduled during January on the Events Calendar at the same website: http://www.divorcedparentsupport.com/ebook.
OnlineParentingPrograms.com is participating in ICCD Month by offering any $39 value parenting program for free. This gives divorcing parents a head-start in understanding co-parenting skills and responsibilities toward their children in the months and years ahead.
"We're honored to be joining divorce professionals around the world to remind parents about how to safe-guard their children's well-being before, during and after divorce," says Michelle Muncy, CEO of Online Parenting Programs. "Our focus is on education and mistake prevention. We want to encourage harmonious outcomes, teach effective communication skills, and guide parents toward cooperative co-parenting whenever possible," she adds. "We also offer Anger and Conflict Management Programs that provide essential skills co-parents need to minimize negative effects of divorce on their children."
To learn more about the variety of parenting programs available on Muncy's website, visit: http://www.onlineparentingprograms.com. For more information about International Child-Centered Divorce Month with access to all the gifts and special events taking place in January visit: http://www.divorcedparentsupport.com/ebook.