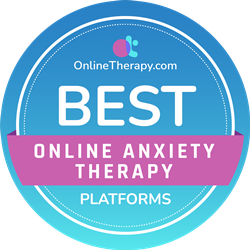 SEATTLE (PRWEB) February 02, 2021
OnlineTherapy.com, a premier global database that connects carefully vetted therapists with clients, has announced the best online anxiety therapy platforms of 2021. The high-ranking solutions were evaluated based on core features across several categories.
All platforms were required to support multiple communication channels for clients to connect with therapists, including video, phone, email, live chat, and text messaging. Research experts also examined services that provide a large network of therapists with flexible options for patients. It was also crucial for service providers to offer same-day appointments and 24-hour support.
"Most people with anxiety need ongoing treatment to help manage their condition," says Caitlin Kingston, LCSW. "Our goal is to simplify the process of finding a convenient and trusted online platform for anxiety therapists."
OnlineTherapy.com reviewed numerous platforms across the globe in high demand categories. To access the complete list of best online anxiety therapy platforms of 2021, please visit https://www.onlinetherapy.com/online-therapy-services/.
Best Online Anxiety Therapy Platforms of 2021
BetterHelp — Best Overall
Talkspace — Best for Insurance Coverage
Online-Therapy.com — Best Membership Plan
ReGain — Best for Couples
Faithful Counseling — Best for a Christian Perspective
Pride Counseling — Best for LGBTQ Community
TeenCounseling — Best for Teens
Wellnite — Best for Prescription Medication
Doctor on Demand — Best for Non-English Speakers
Larkr — Best for Groups
ABOUT ONLINETHERAPY.COM
OnlineTherapy.com connects people with therapists all over the world. With advanced search tools, clients can find carefully vetted therapists based on education and experience, or use a personal matching tool to identify the best counselor for their specific needs. The platform also provides resources for therapists that want to start or expand their virtual practice. In addition to an extensive directory of professionals, users can access articles, reviews, and a podcast series. To learn more, visit https://www.onlinetherapy.com/.