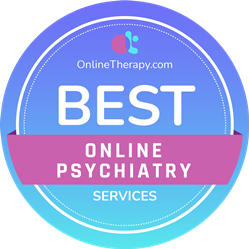 SEATTLE (PRWEB) February 16, 2021
OnlineTherapy.com, a premier global database that connects carefully vetted therapists with clients, has announced the best online psychiatrist services of 2021. The top-ranking websites were selected based on essential features across several categories.
Experts at OnlineTherapy.com evaluated platforms that can facilitate communication between clients and therapists through email, text messaging, live video, phone, and chat discussion. Additional requirements include services with qualified psychiatrists that can deliver a broad range of treatment options. It was also critical to identify services with accessible care and little or no wait time.
"Some patients have more complex conditions that require the care of a psychiatrist, and our experts have developed this unbiased guide to the most trusted online psychiatrists," says Caitlin Kingston, LCSW.
OnlineTherapy.com reviewed numerous platforms across the globe in high demand categories. To access the complete list of best online psychiatrist services of 2021, please visit https://www.onlinetherapy.com/best-psychiatrists/.
Best Online Psychiatrist Services of 2021
Amwell— Best Overall
BetterHelp— Best for Versatility
Talkspace— Best for Convenience
MDLIVE Behavioral Health— Best for Insurance Coverage
Teladoc— Best for Medication Management
e-Psychiatry Telemedicine— Best for Personalized Care
Rethink My Therapy— Best for Usability
LifeHealth Online— Best for Therapy
Now Psych— Best for Internet and Gaming Disorders
ABOUT ONLINETHERAPY.COM
OnlineTherapy.com connects people with therapists all over the world. With advanced search tools, clients can find carefully vetted therapists based on education and experience, or use a personal matching tool to identify the best counselor for their specific needs. The platform also provides resources for therapists that want to start or expand their virtual practice. In addition to an extensive directory of professionals, users can access articles, reviews, and a podcast series. To learn more, visit https://www.onlinetherapy.com/.