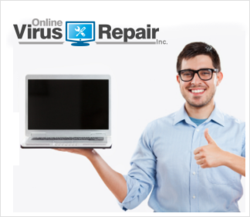 The "Internet Security virus" can be quickly resolved via remote virus removal. Connect with an expert at OnlineVirusRepair.com for assistance.
(PRWEB) July 10, 2013
As a flurry of new malware storms the internet, some unfortunate computer users have picked up a new virus dubbed the "Internet Security virus." The Internet Security virus is designed to appear as a legitimate ant-virus program, when in reality, the program has malicious intent, using social engineering in an attempt to extort money from unsuspecting computer users. The virus has already infected several thousand users around the nation, and appears to sneak by even the most effective anti-virus software.
The malware removal experts at Online Virus Repair Inc. have seen a number of clients infected with this particular virus, and have prepared a fast and effective method for quick resolution to the annoying virus. Dan Steiner, President at Online Virus Repair Inc. explains "This particular type of malware is very common. Our team sees a great deal of this type of infection on the daily basis, so we're well prepared to take care of it."
Unlike traditional virus removal methods commonly utilized by local computer shops, Steiner's company provides remote support, which is significantly faster and much easier for clients. Instead of unplugging cables, wires, and other peripherals from the infected machine, computer-users with malware infections can quickly call or chat with a technician, who can then connect in via a tiny secure applet, removing any traces of malware. The service also includes patches to commonly exploited plugins, adware removal, and a number of other preventive maintenance procedures to better protect computers from future virus infections, and to boost the performance of the computer.
Steiner continues to say "If your computer has the Internet Security virus, there is no reason to panic. Simply take a deep breath, contact one of our experts, and we'll be able to quickly remove the virus, patch the system, and get you back up and running without any serious downtime or data loss."
About Online Virus Repair Inc.
Online Virus Repair is an expert malware removal company based out of San Luis Obispo, CA. The malware removal team specializes in remote removal of viruses, spyware, and adware. Computer users with infected or problematic computers are able to call or chat with an expert to get immediate resolution to computer problems.
To learn more about Online Virus Repair, visit their website at http://www.onlinevirusrepair.com