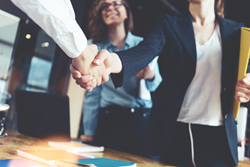 Our leadership team believes in OnPoint's strategy, and their ability to execute.
LOUISVILLE, Ky. (PRWEB) December 11, 2018
OnPoint Warranty Solutions, LLC, a leading provider of underwriting, service contract, and manufacturer's warranty programs, has closed its Series A funding round with a final investment by 1Derlife Investment Partners.
1Derlife Investment Partners, a newly launched investment company founded by Gregory Lee, the former CEO and CMO of fortune 500 companies, invests in consumer-facing businesses focused on using the latest technologies to rapidly scale in Asia and the US. Gregory stated "We selected OnPoint Warranty as an investment opportunity because it ties in with 1Derlife's objective to enhance the experiences and lives of people. We want happier people. OnPoint team's vast experience in consumer product service and service contract industry, as well as their passionate orientation towards excellence in service makes them a perfect fit for our portfolio."
Anju Abrol, Co-founder of 1Derfile, stated "We believes in OnPoint's strategy, and their ability to execute. Its executives have a long record of experience in the consumer products industries, particularly in appliance and electronics, including tenure at fortune 100 companies like GE, Samsung, AIG, Sears and ServicePower. They understand how the market has changed and what today's consumers expect from manufacturers and service providers. That keen understanding and a consumer-focus, as well as vast experience in service technology and in the service contact vertical, gives OnPoint and edge we believe will drive its leadership the service contract industry. We also believe that they have the knowledge to take this product set to Asia, where the market is fragmented ripe for a leader to take hold and own the vertical in country."
Chris Smith, CEO, OnPoint stated, "OnPoint is excited by the 1Derlife team's faith in our ability to succeed here in North America and abroad. With their support we will continue to drive innovative products and services to the market and excellent consumer service experiences through technology and an expertly managed, high-touch service network. Our goal is to drive revenue for our clients by maximizing each consumer relationship, while creating the highest levels of shareholder value."
About OnPoint Warranty Solutions, LLC.
OnPoint was launched by customer experience experts with proven success helping global brands deliver underwriting, service contract and manufacturer warranty programs, service fulfillment, service administration technology and logistics, to drive the highest levels of consumer experience in the service industry. Building on the foundation of a connected, multinational service network, omni channel customer interactions and consumer-focused technology, OnPoint creates brand loyalty through service contract and warranty services designed to reduce risk, increase efficiency, delight consumers and improve our customer's bottom line. For more information, visit our website: http://www.onpointwarranty.com