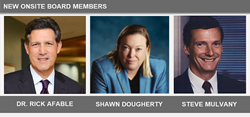 NEWPORT BEACH, Calif. (PRWEB) May 30, 2019
OnSite Waste Technologies, a leader in medical waste disposal, has appointed former CEO of St. Joseph Hoag Health, Dr. Rick Afable, technology executive Shawn Dougherty, and service quality leader Steve Mulvany to its board of directors. These appointments follow the recent close of OnSite's $3.5M seed round, which will support its go-to-market efforts.
A decades-long healthcare industry veteran, Dr. Afable recently retired as CEO of St. Joseph Hoag Health, the largest health system in Orange County, California. With an esteemed career in medicine, having practiced internal medicine and geriatrics for almost 20 years before entering hospital administration, he has held high-level positions in renowned healthcare organizations, serving as CEO of Hoag Hospital in Newport Beach, California, and chief medical officer of Catholic Health East in Newtown Square, Pennsylvania.
Shawn Dougherty co-founded mophie®, the number one selling battery case manufacturer for mobile devices in North America. With Shawn as COO and founder, mophie created the first juice pack battery case for the first generation iPhone in North America, and built an exclusive partnership with Apple. Under her guidance and strategic vision, the company grew from three employees in a barn in Michigan to a multi-million dollar business with 300+ employees in five facilities worldwide. Prior to mophie, Ms. Dougherty led product development for several notable tech companies, including Directed Electronics, Orion, ADST, and Stryker.
Steve Mulvany is President and founder of Management Tools Inc., which works on a long-term basis with companies throughout the United States, Canada, and Australia implementing strategies to improve management and service quality practices which impact company performance and customers' perceptions.
The appointment of Dr. Afable, Ms. Dougherty, and Mr. Mulvany bring additional medical background as well as manufacturing and service expertise to the already impressive board and growing team at OnSite Waste Technology.
With the appointment of Afable, Dougherty, and Mulvany, OnSite Waste's board consists of six members. Other board members include: Mike Bienvenuti, Chairman of the Board and CFO, Brad Barnes CEO, and Mike Beaudoin, Director of Private Equities at Mark IV Capital. Both Bienvenuti and Beaudoin were appointed subsequent to their respective funds' investment in OnSite Waste.
About OnSite Waste Technologies
OnSite Waste Technologies is pioneering a novel way for medical and long term care facilities, along with other generators of medical waste to dispose of their hazardous medical waste conveniently in their location's regular trash. The TE-5000, a simple-to-use desktop-sized unit, converts regulated medical waste into sterile garbage for small-scale medical waste producers. The TE-5000 reduces the liability associated with the traditional method of hauling waste to a central location by reducing or eliminating the time waste sits in a practice. For practices paying too much for their current hauling service, the TE-5000 can also have a significant impact on the bottom line. For more information visit http://www.onsitewaste.com.