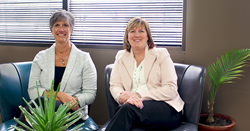 "We are passionate about helping people in their wellness journey by providing support and encouragement to make healthy lifestyle choices."
GRAND RAPIDS, Mich. (PRWEB) October 12, 2017
Women-owned and Grand Rapids-based workplace wellness provider, OnSite Wellness, has been named one of Michigan's 2017 Best and Brightest in Wellness® by Best and Brightest. OnSite Wellness will be honored at the annual Best and Brightest in Wellness® awards program on Friday, Oct. 20 from 7:30 a.m. to 2 p.m. at the Henry Autograph Collection Hotel, located at 300 Town Center Dr., Dearborn, Mich. 48126. The event will include educational sessions, fitness classes, and a keynote address by best-selling author, speaker, and health and wellness expert, Cassie Sobelton.
The premiere Best and Brightest in Wellness® awards program recognizes companies and organizations that celebrate quality and excellence in health and wellness. Winners were evaluated by SynBella, the nation's leading wellness provider.
"OnSite Wellness is excited to be recognized by Michigan's Best and Brightest! We are passionate about helping people in their wellness journey by providing support and encouragement to make healthy lifestyle choices," said OnSite Wellness co-owner, Mary Ritsema. "OnSite has been blessed the past 11 years to have partnered with so many caring organizations to bring health and wellness programs to their employees. "
 
For 25 years, business owners Amy Ritsema and Mary Kline have been providing customized wellness programs to promote employee health and wellbeing. As owners of OnSite Wellness for the past 11 years, they feel their most significant accomplishment is launching a thriving company that continues to experience growth.
Within the last calendar year, OnSite Wellness received the following achievements:

Received the Women's Business Enterprise Certification (WMEC) by the Women's Business Enterprise National Council (WBENC)
Named a Small Business of the Year 2016 EPIC Award finalist by the Grand Rapids Chamber of Commerce
Serviced 52 clients in 15 states
Relocated headquarters to accommodate a growing team
"It is an exciting time to be in the corporate health and wellness field. With the lack of talent available to hire, employers are recognizing that having a wellness/well-being program is not only helpful in curbing health plan costs but that it also shows that they care about their employees and affects both retention and productivity. More employers are looking to implement a wellness solution or to grow their current program, OnSite Wellness is well positioned to support employers and customize a wellness solution to meet their specific needs," said Kline.
Ritsema and Kline oversee an experienced team of exercise science, nutrition and health professionals who are certified in worksite wellness and coaching. They provide consulting, individualized coaching and comprehensive strategies to companies of any size. The tailored wellness programs include biometric screenings, wellness challenges, lifestyle coaching, educational opportunities, tobacco cessation, stress management and more.
For information on attending, sponsoring, advertising or exhibiting at the annual Michigan's Best and Brightest in Wellness® ceremony, visit: 101bestandbrightest.com. For more information on OnSite Wellness' services and programs, visit: onsitewellnessllc.com.
About OnSite Wellness:
OnSite Wellness develops customized wellness strategies and solutions to improve employee well-being. Owners, Amy Ritsema and Mary Kline, have been implementing wellness solutions for over 25 years. As a company, OnSite Wellness believes that the most valuable asset in any organization is its employees. They believe in making workplace wellness fun and engaging for all of their clients and their employees.
OnSite Wellness offers customized wellness solutions to organizations throughout Michigan and in the Midwest. These organizations include small family businesses to large corporate companies. Uniquely, they are carrier independent and are able to provide robust, customizable wellness solutions to track and report all components, including incentives.
Facebook: facebook.com/onsitewellnessllc
Twitter: twitter.com/onsite_wellness