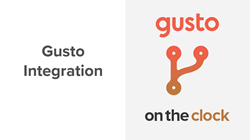 "Bringing into existence an integration between OnTheClock and Gusto was an act of good conscience. Our customers requested it and we wanted to meet their needs. Although the relationship is young, the integration is successful and helping the accounting process transfer hours to payroll."
CLINTON TWP, Mich. (PRWEB) March 04, 2021
OnTheClock, a leader in employee time tracking software, announced they have officially integrated with Gusto's payroll platform. The two reputable tech companies partnered to provide an excellent solution for tracking employee hours worked and simplifying the payroll process. The added feature is expected to benefit thousands of businesses across the globe.
CEO of OnTheClock, Dean Mathews said, "Bringing into existence an integration between OnTheClock and Gusto was an act of good conscience. Our customers requested it and we wanted to meet their needs. Although the relationship is young, the integration is successful and helping the accounting process transfer hours to payroll."
The seamless interface between the two systems is designed to quickly connect OnTheClock and Gusto accounts by eliminating manual data entry, resulting in more efficiency and greater accuracy. This provides business owners the convenience of linking their time clock employees with their Gusto account. Once properly linked, the innovative integration sends employee timesheet data from OnTheClock to Gusto and begins the payroll process. Timesheet reports may include regular and overtime hours, PTO, tips, bonuses and commissions paid.
Additional information on how to get started can be found here.
OnTheClock understands the importance of payroll accuracy for small businesses and wants to provide a useful tool for accountants and other payroll professionals to complete their job efficiently. By allowing quick access to timecard data, payroll has never been easier and more convenient to process than right now.
About OnTheClock:
Established in 2004, OnTheClock has been dedicated to providing the latest technology in cloud-based employee time tracking software. With over 14,000 active companies, OnTheClock continues to meet demands by continuously developing new time tracking features for small businesses to accurately document and report employee hours worked.
Visit ontheclock.com to learn more about their software and how they are growing.