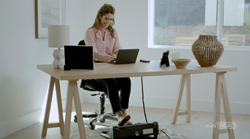 The miniTREAD is designed to help people of any fitness level, as nearly all Americans sit too much.
LOS ANGELES (PRWEB) January 11, 2021
Onthemuv®, the company behind the patented miniTREAD ®, knows exercise is necessary; however, our busy lives sometimes keep us from attaining our goals. Enter the miniTREAD. Used while seated, the miniTREAD weighs a mere 23 lbs and fits under any desk. It can be used at any time, thus alleviating the need to "find time" to exercise. When used during the workday, it enhances productivity, engages our muscular system, and keeps us from sitting in one position for too long. Exercising while working, watching television, or simply sitting and relaxing means anyone can multitask efficiently, while getting the benefits of exercise at the same time.
The patented miniTREAD® is a compact and ergonomically-designed cardio device that engages the quads, core, hamstrings and calves. Geared for all fitness levels, this motorized device counteracts the impact of extensive sitting allowing millions of Americans of all mobility levels to get fit from the safety and comfort of their own home.
"The miniTREAD is designed to help people of any fitness level, as nearly all Americans sit too much," said Hillary New Sinclair, CMO of Onthemuv. "From a marketing perspective, we are looking to interact with busy people who want fitness to naturally merge into their daily lives as they work, read, spend time with family and watch TV. The contest entry types help us better understand our core audience and what's most important to them about fitness and their lifestyles. Early responses include people sharing that the miniTREAD is easy to set up and use, can help them combat balance issues, be gentler on their joints and more."
This past year has made fitness and movement more of an acute issue that affects everyone. "The combination of COVID-19 social distancing, gym closures, and binge watching - coupled with the annual weight gain from the holiday season has seriously impacted our health," Onthemuv.com Co-Founder Patrick Netter. "We sit more than ever which makes fitness harder to achieve. We have less time with virtual school, telecommuting, and the rigors of being home so much. In short, 2020 was such a rough year, so as a company we are starting 2021 with a focus on fitness at home. Whether seated or standing, registrants are encouraged to show their individualism through creative expression or just having fun, while knowing they are on the road to improving their health in the process."
Today, the company is announcing their "Goodbye 2020, Hello 2021" Sweepstakes. From now through January 17, 2021, two lucky winners will each be able to win a motorized miniTREAD® which enables them to walk while seated, showing off their Goodbye 2020, Hello 2021 MUVes!
Created to coincide with the New Year's Resolutions that include getting fit and less inactive sitting, the goal of the Hello 2021 MUVes Sweepstakes is to encourage more movement in registrants' daily lives and to learn more about how the miniTREAD can help with fitness goals. Two lucky winners will be drawn from all registrants, and each Winner will receive a miniTREAD®. The first drawing will take place in early January, with the second drawing will taking place on Monday, January 18, 2021.
The contest is easy to enter and any adult in the U.S. can enter by simply providing their email address. Each Registrant may have over two hundred additional entries in eight (8) different ways. Registrants can get additional entries by:

Uploading a video showing their Hello 2021 MUVs on Instagram, Facebook or Twitter and tagging #MUVinto2021 – 50 entries
Uploading their Hello 2021 MUV video on YouTube - 50 entries
Following Onthemuv on our social media channels – 1-5 entries each
Answering the Question: "What excites you the most about winning a miniTREAD?" - 20 entries
Share with Friends – 4 entries each
And for those registrants who complete ALL options, they get 100 bonus entries
Onthemuv.com is committed to helping customers find the best ways to exercise, without needing to give anything up to do so. For more information, please visit http://www.Onthemuv.com.
About Onthemuv.com
The Onthemuv® miniTREAD® is a reimagined treadmill-style device used from a seated position and designed for those working from their home or office, or those with mobility limitations. Co-founders Joanna Medin and Patrick Netter have spent more than three years developing the unique miniTREAD. Superbly engineered and with a small footprint, it's designed for ease of use and reliability and early testing has evoked hugely positive responses. The miniTREAD provides virtually the same cardio and muscular benefits as walking on a treadmill at the gym... without leaving the house.