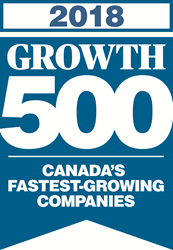 This achievement reflects the relentless efforts of our entire team and confirms that we continue to deliver real business benefits for our clients
EDMONTON, Alberta (PRWEB) September 13, 2018
Canadian Business and Maclean's today ranked Ontracks Consulting No. 319 on the 30th annual Growth 500, the definitive ranking of Canada's Fastest-Growing Companies. Produced by Canada's premier business and current affairs media brands, the Growth 500 the country's most successful entrepreneurial businesses based on five-year revenue growth. Growth 500 winners are profiled in a special print issue of Canadian Business published with Maclean's magazine and online at CanadianBusiness.com and Growth500.ca.
"The companies on the 2018 Growth 500 are truly remarkable. Demonstrating foresight, innovation and smart management, their stories serve as a primer for how to build a successful entrepreneurial business today," says Deborah Aarts, Growth 500 program manager. "As we celebrate 30 years of the Canada's Fastest-Growing Companies program, it's encouraging to see that entrepreneurship is healthier than ever in this country."
"We are thrilled to be listed on the Growth 500 list alongside other innovative, fast-growing businesses across Canada," says Craig Mackenzie, Principal at Ontracks Consulting. "This achievement reflects the relentless efforts of our entire team and confirms that we continue to deliver real business benefits for our clients," he adds. Ontracks Consulting, North America's leading IBM Maximo implementer, has been providing best practice asset management services since 2007. Earlier this year Ontracks, became the first Maximo-focused IBM Business Partner globally to reach Platinum level, status of recognition reserved for select group of IBM partners who demonstrate ongoing sales success and outstanding customer satisfaction.
To learn more about Ontracks Consulting
Visit website: http://ontracksconsulting.com
Twitter: @Ontracks_EAM
About Ontracks Consulting
Ontracks Consulting is a leading implementer of IBM's Enterprise Asset Management product Maximo and operational improvement firm, working with clients around the world to improve their operational performance. Ontracks focuses on delivering enterprise implementations and helping clients realize tangible and sustainable operational improvements.
About the Growth 500
For 30 years, the Growth 500 has been Canada's most respectable and influential ranking of entrepreneurial achievement. Ranking Canada's Fastest-Growing Companies by five-year revenue growth, the Growth 500—formerly known as the PROFIT 500—profiles the country's most successful growing businesses. The Growth 500 is produced by Canadian Business. Winners are profiled in a special Growth 500 print issue of Canadian Business (packaged with the October issue of Maclean's magazine) and online at Growth500.ca and CanadianBusiness.com. For more information on the ranking, visit Growth500.ca.
About Canadian Business
Founded in 1928, Canadian Business is the longest-serving and most-trusted business publication in the country. It is the country's premier media brand for executives and senior business leaders. It fuels the success of Canada's business elite with a focus on the things that matter most: leadership, innovation, business strategy and management tactics. Learn more at CanadianBusiness.com.