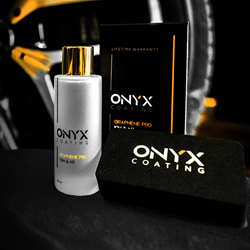 High-Gloss & Super Silky Ceramic Car Coating with Long Lasting Results.
RINGHEIM, Germany (PRWEB) June 24, 2020
The management team at Onyx filed the certification application with SGS International for the revolutionary Onyx Graphene product. This ultra-hard 10H ceramic coating product is engineered to provide N1 smoothness level and last for a lifetime.
Nano-coating, also known as a ceramic coating, is a newly researched technology with the characteristic of being hydrophobic (water repellent) and oleophobic (oil repellent). When applied as a surface layer on car paint, nano-coating repels dry particles, water, oil, and dirt, thus making the car paint surface anti-corrosive, UV resistant, high temperature resistant, and resistant to chemical compounds. In practical terms, this can cause surface scratch-resistant, improve its hardness, and even make it resistant to bacteria. In practical terms, nano-coating is the new standard to give car paint the glitter and shine we all love.
Onyx is lifting the standard in car care products with its unique series of automotive protective coating products that guarantee complete interior and exterior enhancement and protection. The products range from external ceramic coatings, interior fabric, and leather coatings, and paint preparation wax and silicone removers of the highest quality.
Ahmad Al Madi, Sales Director at Onyx, stated, "For many years, paint jobs were one of the biggest problems in cars. Specifically, their restoration was the main issue, and the problem that made cars look old and unattractive. Our vision was to provide car care professionals and private car owners top performance products guaranteed to last in any condition, and the new Onyx series delivers just that. Our professional Graphene, Quartz, nano shielded, and interior coating products ensure unmatched protection for surfaces and interiors of any vehicle."
For more information, please contact the PR Team at Onyx Coating info@onyxcoating.com.
About Onyx
Onyx was founded in 2015 to provide car care professionals, auto enthusiasts, and car owners with the highest quality car care products at competitive prices. Customer service excellence is at the heart of Onyx's success. The team at Onyx remains dedicated to providing the market with uniquely capable products, accessories, and specialist knowledge.