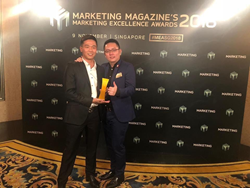 The two towers. OOm Singapore founders Ian Cheow and Wyvan Xu receiving their Gold award for Excellence in Search Marketing at Marketing Magazine's Marketing Excellence Awards 2018.
SINGAPORE (PRWEB) February 28, 2020
OOm Singapore has established its reputation for its SEO services. But in the aim to provide full support for small businesses and entrepreneurs, it recently launched its full suite of digital marketing services.
"SEO nowadays is getting more complex," said Ian Cheow, CEO and Co-Founder of OOm. "With our full suite of SEO services, we can ensure we cover every angle of the process and deliver more for our clients."
The SEO company in Singapore says its full-service SEO is geared towards assisting brands to drive traffic, grow communities, raise brand awareness, and ultimately increase conversions.
From its basic SEO Services, OOm Singapore has expanded its offerings to include full website audit, SEO audit, on-page and off-page optimisation, in-depth keyword research, link building campaigns, and comprehensive content marketing.
These are in addition to its existing social media integration strategies that include Facebook management, among other niche platforms.
OOm Introduces Full-Service SEO
With the introduction of the full suite of digital marketing services, Singapore brands can get access to full-service SEO campaigns designed to help them cut through the noise—boost website exposure and increase Google search rankings.
"We have delivered search engine marketing services for over 14 years; our integration of search and social media really sets us apart," Cheow added pertaining to the advantage the Singapore SEO company can offer in digital marketing.
"Many companies are jumping into social media marketing because it is the latest thing, but they lack the know-how and experience to be successful," The CEO and co-founder mentioned with a guarantee to deliver a high-touch digital marketing service complete with technical and creative abilities required to succeed.
Each client gets full transparency into their campaigns with easy-to-read reports and actionable results. Some of the figures they should find in an SEO report include organic traffic, conversion rate and goal completion, page speed insights, time on site and bounce rates, rankings and links, and more importantly, SEO recommendations and execution plan.
The Singapore SEO agency takes pride in its in-depth reporting, which lets clients track how their site is performing in search results, how much traffic their site is bringing in, which pages are generating the most traffic, and which SEO strategies are working and what may not be working. On the other hand, the SEO recommendation section provides a clear outline of what they should expect moving forward.
OOm Full-Service SEO Pricing in Singapore
The SEO services OOm offers can be availed individually or as a full SEO package, all with a month-to-month service agreement.
Because no two SEO services are the same, the cost clients can expect to pay with OOm will depend on the level of services they will avail. For instance, including more keywords or strategies to their SEO package may come at a higher cost.
Brands are encouraged to get in touch with their digital marketers at OOM Singapore for a free consultation and customised SEO plan. They can also read their blog for a more in-depth analysis of the SEO pricing in Singapore.
About OOm Singapore
Established in 2006, OOm is one of the leading digital marketing agencies in Singapore that takes pride in its high competency in search engine optimisation and search engine marketing.
The company is also a proud Google Premier Partner—an esteemed certification with a highly selective qualification. Such an accreditation recognises the company's proven track record of translating digital investments into successful online campaigns as well as its commitment to deliver innovative campaigns and maximise profitability.
Awards and Recognitions
OOm is quite accustomed to the term success. The SEO agency in Singapore is regarded as one of the award-winning digital marketing agencies in Singapore, with several awards and recognitions under its belt.
Gold - Excellence in Search Marketing - Marketing Excellence Awards 2018
Winner - Best Search Campaign - Agency of the Year MARKies Award 2011
Silver - Search Marketing Agency of the Year - Marketing Magazine's Agency of the Year Awards 2019
Silver - Best Use of Search - MARKies Awards 2018
For more information, visit the OOm website. You can also email them at support@oom.com.sg or call +65 6391 0930.