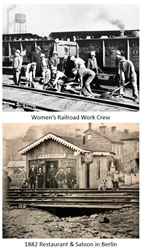 BRUNSWICK, Md. (PRWEB) July 16, 2020
While many museums and galleries remain closed, there is a three-block walk in downtown Brunswick where an open-air photo exhibit is now showing. Large historic photographs are placed in mostly empty storefronts. The photos tell about life in a railroad town years ago.
The exhibit features 25 historic photos from the files of the Brunswick History Commission and the Brunswick Heritage Museum. The images were selected by a design group from Brunswick Main Street, Inc. The photos were enlarged and made into window clings. Jean Doyle, who headed the project, said "I hope people walking through downtown Brunswick can take time to enjoy this display of the rich railroad and river history of our town."
Take a stroll up Potomac Street from Maple to Delaware Avenues to see the photos and read the captions. For those who want a bit more of the history behind the images, local historian James Castle is giving guided tours on Friday, July 17 at 6 pm and Sunday, July 19 at 3 pm. The tour is free. Meet at the Brunswick Train Station on South Maple Avenue. Participants are asked to wear face masks. To sign up for a guided tour, visit brunswickmainstreet.org/downtown-events/.
Two examples from the tour:
Women's Railroad Work Crew (pictured above)
Women are found at every turn of the American railroad journey. During wartime, especially WWII, women enabled the B&O to survive. Women worked in the railyard and became train masters, station agents, crane operators and air brake cleaners.
1882 Restaurant & Saloon in Berlin (pictured below)
The restaurant was probably located at the end of today's Virginia Avenue. It was situated beside the B&O tracks going west through town. In 1890, the B&O Railroad built a large classification yard here. This was the year the small village of Berlin became "Brunswick" and turned into a boomtown.
Brunswick Main Street is part of Main Street America, a program of the National Trust for Historic Preservation that supports communities in their efforts to revitalize struggling downtowns while retaining their unique, historic characters. Dedicated to the economic success of its downtown, Brunswick Main Street, created in 2004, works to revitalize the charm and history and show residents and visitors why Downtown Brunswick is a great place to live, work, shop, and play. To learn more about Brunswick Main Street and how you can get involved.