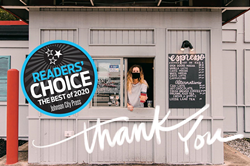 "Crimson Cup has done a lot of the hard work by figuring out and fine tuning processes and finding what works best. It's much simpler to have Crimson Cup provide layout, equipment, products and training as a proven system."
Columbus, Ohio (PRWEB) December 26, 2020
As Open Doors Coffee House celebrated its fourth anniversary, Owners Michael and Sherry Marion reflected on the qualities that earned their coffee shop a Best in Johnson City award for the past three years.
"Our mission is to provide a great place for terrific coffee, service and community," said Michael Marion. "We are locally owned and very connected with the community."
Housed in a former Long John Silver's restaurant building, Open Doors has become a gathering place for locals.
"We like to see our front porch as a place to connect with people in the adjoining neighborhoods," Michael said. "We have loved on and redeemed this little corner in Johnson City."
Sherry Marion says friendly service is central to their success. "Our staff knows customer names, personal details and, of course, the way they like their drink," she said. "They love that we sometimes have their drink ready as they walk in or pull up to the drive through!"
To support the local community, the Marions collaborate on discount cards for many organizations, offer discounts to several businesses and house local artisans' work.
.
"We desire to continue to grow and be a substantial source of income for our non-profit, Rise Up for Kids!" Michael said. "We started this local ministry in 1994."
The couple learned how to open a coffee shop from nationally renowned coffee roaster Crimson Cup Coffee & Tea.
"When my husband began thinking and dreaming of having a coffee shop, he discovered Crimson Cup," Sherry said.
"He went to visit their Columbus, Ohio headquarters and decided we would benefit by partnering with this company."
For almost 30 years, Crimson Cup has helped entrepreneurs open and run unique independent coffee shops serving their local communities.
"As an independent coffee shop owner, you don't have to go it alone!" said Founder and President Greg Ubert. "It's been a pleasure to work with Michael and Sherry over the past four years, and we look forward to many more years of helping them grow their business."
Budding coffee shop owners like the Marions learn the ins and outs of efficient operations through the company's 7 Steps to Success coffee shop franchise alternative program.
The program grew based on Ubert's book, Seven Steps to Success: a Commonsense Guide to Succeed in Specialty Coffee.
"We give new owners everything they need to succeed – starting with writing a solid coffee shop business plan and choosing a profitable location and continuing through creating an efficient layout, selecting the right equipment, training owners and baristas and more," Ubert said.
The 7 Steps program offers many benefits of a coffee shop franchise, without franchise fees, royalties, or even a long-term contract.
"Crimson Cup has done a lot of the hard work by figuring out and fine tuning processes and finding what works best," Sherry said.
"There's so much you have to consider and figure out," she added. "It's much simpler to have Crimson Cup provide layout, equipment, products and training as a proven system."
Michael said Crimson Cup's hands-on training and ongoing availability has been "incredible," adding, "I have found their consultants to be kind, friendly and very available to help."
Sherry said customers rave about the coffee, which is roasted by Crimson Cup.
"Our customers love our drinks and declare they are the best ever," she said. "Many have switched to our coffeehouse after trying one of our drinks."
"They love that we are local and not a big corporation," she added.
Among many national honors, Crimson Cup coffee won 2017 and 2020 Good Food Awards – which recognize the best tasting, most responsibly sourced coffees in the United States – and was named a finalist for a 2021 Good Food Award.
Michael attributed the couple's success to several factors. "It comes down to hard work, excellent service, connecting with your customers, continuing to fine tune your processes and systems, always learning and growing!"
He had several thoughts to share with entrepreneurs who are dreaming about opening their own coffee shops.
"Learn all you can about running a business," he said. "Seek out successful business owners and learn from them.
"Before you start, you need a substantial business plan and wise counselors," he added. "Have the right people in the right seat on the bus. Make sure you have a strong financial person in place – a trustworthy watchdog to give you sound advice.
"In conclusion, I would absolutely encourage others to seek out Crimson Cup," he said.
About Crimson Cup Coffee & Tea
Columbus, Ohio coffee roaster Crimson Cup Coffee & Tea is a 2020 Good Food Award winner, 2019 Golden Bean Champion for Small Franchise/Chain Roaster and Roast magazine's 2016 Macro Roaster of the Year. Since 1991, Crimson Cup has roasted sustainably sourced craft coffee for consumers and wholesale coffee customers.
Through its 7 Steps to Success coffee franchise alternative program, the company teaches entrepreneurs to run independent coffee houses in their local communities. By developing a coffee shop business plan, entrepreneurs gain insight into how much it costs to open a coffee shop.
Crimson Cup also supports life-enriching projects through its Friend2Farmer™ initiatives, promoting the education, health, sustainability and economic growth of small-plot coffee farmers and their communities.
Crimson Cup coffee is available through over 350 independent coffee houses, grocers, college and universities, restaurants and food service operations across 30 states, Guam and Bangladesh. The company also operates several Crimson Cup Coffee Houses and a new Crimson retail flagship store. To learn more, visit crimsoncup.com, or follow the company on Facebook, Instagram and Twitter.