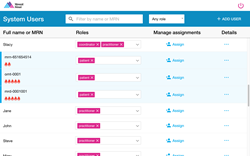 "Having a digital provider communication tool for use while the team is all working remotely has been critical to our continued ability to provide high quality care to our IBD patients" Dr. Laurie Keefer, Mount Sinai
MOUNTAIN VIEW, Calif. (PRWEB) March 31, 2020
Mount Sinai Hospital in New York and Open Health Network have collaborated on a digital system to coordinate effective care for thousands of high-risk patients living with Inflammatory Bowel Disease (IBD). The solution is designed to improve patient outcomes, including a reduction in patient complications requiring hospitalization, freeing critical care resources that are under enormous strain at Mount Sinai and other hospitals because of the COVID-19 pandemic.
The GRItT-Pro system is a digital replacement for a manual system designed by Mount Sinai to closely coordinate the care teams responsible for treating patients with complex, chronic, and costly to treat conditions including Crohn's disease and ulcerative colitis. Built atop Open Health Network's blockchain-based core framework for healthcare, a pilot version of GRItT-Pro was created in just two months with no coding from scratch.
Immediately scalable, the system eliminates the manual system's limit of 200 simultaneous patients out of the 12,000 IBD patients under the hospital's care. While IBD is the first disease area to be handled by the tool, the tool also has the potential to be applied to a range of other chronic conditions that require long-term, coordinated care.
Managing Complex Treatment
Treating patients with IBD requires a long-term holistic treatment plan that involves a diverse set of specialized providers, making it the third costliest disease after heart disease and cancer. In addition, many of those patients also are dealing with stress, anxiety or depression as a result of their disease. That can interfere with their ability to follow their treatment plans or communicate with the care team, and as a result lead to worsened symptoms, diminished outcomes, reduced quality of life, and an increased likelihood of surgery.
"As a result, they fall through the cracks, and nobody keeps track of them between appointments," said Laurie Keefer, PhD, a health psychologist at Mount Sinai's Susan and Leonard Feinstein Inflammatory Bowel Diseases Clinical Center.
That inspired Mount Sinai to create a proprietary scoring and care team management system called Gaining Resilience through Transitions (GRItTTM). The method allowed for greater coordination of care, but it was paper-based, with time consuming manual entry and challenging communications among the team. Open Health's core framework enabled the team to create a more powerful digital system that automated the information exchange among providers.
An Integrated Solution for Providers and Patients
The GRItT-PRO tool presents everything about a case to each member of the care team instantly on a provider dashboard. This allows the care coordinator as well as the team to understand the particular situation faced by each patient and respond to that by changing or adding various care routines. A pilot version of the clinician-facing GRITT tool is currently undergoing initial clinical testing, and a fully integrated patient-facing component is being created.
"Our platform was created specifically to address the needs of healthcare, including the crucial issues of privacy and cost-effective development," said Tatyana Kanzaveli, CEO of Open Health. "Our team was able to collaborate with Mount Sinai and understand exactly what they needed and produce it very quickly with existing modules."
Reducing Hospital and In-Person Visits to Free Resources
The tool also integrates with Mount Sinai's existing Telehealth services. This ability is important for high-risk IBD patients, who are often reluctant to leave their homes because of the unpredictable nature of their symptoms. It also is vital for providers during times when either a patient or a provider is unable to come to the hospital, as is the case during a public health emergency such as the COVID-19 pandemic.
"Having a digital provider communication tool for use while the team is all working remotely has been critical to our continued ability to provide high quality care to our IBD patients," Keefer said.
Case study is available to download at Open Health Network web site.
About Open Health Network
Open Health Network is using Blockchain and smart contracts to enable consumers to control and monetize their health information. Powered by Artificial Intelligence and Big Data analytics, our platform enables rapid development of mobile health applications and chatbots for patients, healthcare providers, payers and medical researchers. Learn more at https://www.openhealth.cc.
About the Mount Sinai Health System
The Mount Sinai Health System is New York City's largest academic medical system, encompassing eight hospitals, a leading medical school, and a vast network of ambulatory practices throughout the greater New York region. Mount Sinai is a national and international source of unrivaled education, translational research and discovery, and collaborative clinical leadership ensuring that we deliver the highest quality care—from prevention to treatment of the most serious and complex human diseases. The Health System includes more than 7,200 physicians and features a robust and continually expanding network of multispecialty services, including more than 400 ambulatory practice locations throughout the five boroughs of New York City, Westchester, and Long Island. The Mount Sinai Hospital is ranked No. 14 on U.S. News & World Report's "Honor Roll" of the Top 20 Best Hospitals in the country and the Icahn School of Medicine as one of the Top 20 Best Medical Schools in country. Mount Sinai Health System hospitals are consistently ranked regionally by specialty and our physicians in the top 1% of all physicians nationally by U.S. News & World Report. For more information, visit https://www.mountsinai.org or find Mount Sinai on Facebook, Twitter and YouTube.