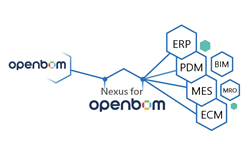 Eliminating silos is disruptive, and it is extremely important to provide "unifying efforts" of seamlessly connected applications. The vdR Nexus solution is delivering an "environment bonding" platform linking data says Martin van der Roest, CEO of vdR Group
NEWTON, Mass. (PRWEB) November 08, 2022
OpenBOM™, a leading SaaS digital product data management, and collaboration platform announces a partnership with vdR Group to deliver enterprise connectivity for OpenBOM customers using vdR Nexus platform. OpenBOM develops SaaS PDM and PLM products to help manufacturing companies to solves the pervasive problems related to data management, data silos, and communication inside of a company and across supply chains. OpenBOM allows users to manage data, files, and related changes across engineering, manufacturing, supply chain, contractors, and suppliers regardless of organizational and geographic boundaries.
"OpenBOM partnerships with vdR unlocks the large group of integrations with PLM, ERP, CRM, and other platforms delivered by the vdR Nexus platform. The power of vdR connectivity and fully customizable Nexus transaction templates allows simplifying OpenBOM delivery to manufacturing companies to exchange information and make transactions seamlessly without interruptions" says Oleg Shiovitky, CEO and co-founder of OpenBOM. "vdR experience and rich set of integrations allows streamlining OpenBOM deliver to all sizes of companies to streamline data handover and cross-functional business processes"
Nexus is an enterprise connectivity solution that has been designed from the ground up to meet the unique needs of companies engaged in engineering and manufacturing. By facilitating the digital thread across disparate silos of data, Nexus ultimately helps organizations meet delivery commitments, lower the cost of quality, and achieve profit margin goals.
To support these lifecycle stages, organizations have long recognized the value of acquiring and implementing "best of breed" applications. There is no one-size-fits-all for handling the ERP requirements for a manufacturer. Companies with multiple manufacturing facilities and distribution channels will have ERP needs far different from a single facility/single product manufacturer. Moreover, if organizations cannot find an off-the-shelf option, they will build out their own platforms to meet their unique business requirements. The reality of standalone applications or "silos of data" is inescapable.
Eliminating silos is disruptive and often impractical, and it is extremely important to provide "unifying efforts" of seamlessly connected applications. The vdR Nexus solution Is delivering "environment bonding" platform linking data in OpenBOM and other platforms and tools" says Martin van der Roest, CEO of vdR Group. Nexus leaves applications as-is, connect and/or binds the various applications together, and orchestrates the exchange of data and files.
About OpenBOM
OpenBOM is a digital network platform providing cloud PDM and PLM applications that manages product data and connects manufacturers and their supply chain networks. OpenBOM's modern SaaS real-time collaboration and data management technology allows to create and manage CAD files, Parts, Bill of Materials, Vendors, and Purchases across networks of engineers, supply chain managers, and contract manufacturers. OpenBOM enables people to share and collaborate using an online Bill of Materials from initial design through all stages of engineering, manufacturing, and supply chain. Headquartered in the Boston, MA area, OpenBOM's website is http://www.openbom.com. For more information or questions please contact oleg(at)OpenBOM(dot)com. OpenBOM is a wholly-owned and branded product of Newman Cloud, Inc
About vdR Group and Nexus
Over the last three decades, The vdR Group has emerged as a leading engineering, manufacturing, and AEC solutions provider with a focus on driving digital transformation through Product Lifecycle Management (PLM) and Enterprise Content Management (ECM) technologies and integrations. We do this via a consultative and solutions-based approach that includes strategic consulting, end-to-end implementations, and application integrations. The Group has helped 100s of companies ranging from Global Fortune 500 manufacturers to cutting-edge start-ups. Today, over 220,000 global users leverage vdR's solutions. Learn more at vdr.com