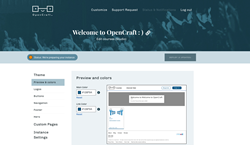 Ramon Ovelar, researcher at the University of the Basque Country, said, "OpenCraft has matched all of our hosting needs, quickly and satisfactorily. This is a service we would recommend. Everything works great and there is always somebody on the other side of the email."
BERLIN (PRWEB) May 27, 2020
OpenCraft today announced a new turnkey hosting plan and user interface (UI) designed to help organizations quickly and efficiently bring their educational courses online. The new OpenCraft Pro & Teacher hosting plan and easy-to-use UI lets higher education institutions and enterprises launch their own Open edX instance in hours at a low cost, all without requiring extensive technical knowledge or additional consultants.
OpenCraft is the leading provider of custom development, services and hosting for Open edX, the open source learning management system (LMS) platform that powers edX®, the world's largest online learning destination. More than 45 million people use Open edX in 34 different languages today for classes, online degree programs and corporate learning initiatives. This number of end-users is only growing as more universities and companies rapidly shift to remote work and education due to COVID-19.
Active within the Open edX community since day one, OpenCraft is the go-to partner for Open edX work around the world, with more than 1,000 contributions to the code base and 1,600 instances created. OpenCraft counts many of the world's leading higher education institutions as clients, including Harvard, MIT and Arizona State University, as well as organizations like the French Ministry of Education and Cloudera. These organizations know that by hosting with a professional service that's deeply familiar with the Open edX code, they can help ensure that their instances are secure and optimized for peak performance.
Ramon Ovelar, researcher at the University of the Basque Country, said, "OpenCraft has matched all of our hosting needs, quickly and satisfactorily. This is a service we would recommend. Everything works great and there is always somebody on the other side of the email."
The new OpenCraft Pro & Teacher hosting plan for Open edX lets organizations easily customize and spin up their instance to meet their unique user needs. Key features and benefits include:

A dedicated, secure instance that is backed up and monitored by the OpenCraft team;
New affordable pricing tiers that are based on the number of active users, providing all of the platform's essential features at a low cost;
An unlimited number of online courses to serve a wide and diverse range of learners;
A new UI console that provides a streamlined user experience with a comprehensive theme editor for total brand adherence; and
The ability to create and support custom domains and page creation for privacy policies and service level agreements.
"Our clients need a self-service interface that lets them bring new courses online quickly," said Xavier Antoviaque, CEO of OpenCraft. "So that's exactly what we built. The new UI makes it simple to create and spin up a new course, requiring no more than a couple of hours to get it online. Especially today, when so many organizations and institutions are nearly 100% remote, it's critical to make it as easy as possible for instructors to create courses and support their learners as best as they can."
In addition to the Pro & Teacher plan, OpenCraft also offers an Institutional plan for organizations that want to scale up to millions of users, offer e-commerce and mobile apps, receive expanded support, and take advantage of OpenCraft's team of experts for custom development support and services.
Additional resources:

About OpenCraft
OpenCraft helps higher education institutions, enterprises, startups and government agencies deliver online courses, education and training programs on the Open edX platform. The company offers custom development, services and hosting with a commitment to provide its clients with the highest quality and caliber of product, service, support and results. OpenCraft has made more than 1,000 contributions to the Open edX open source community and created 1,600 instances around the world. For more information, please visit https://opencraft.com/.