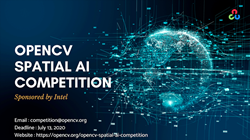 "Education is not a filling of a bucket but the lighting of a fire. Through this competition and OpenCV AI Kit, we will ignite a revolution in Spatial AI. The competition provides a level playing field for everybody. We invite everybody to use their hard work and creativity to win AI glory!"
PALO ALTO, Calif. (PRWEB) July 09, 2020
As part of the 20th anniversary celebration of the OpenCV library, OpenCV.org is organizing OpenCV Spatial AI competition sponsored by Intel.
Spatial AI is the capability of an AI system to reason based not just on what it is looking at but also how far things are located. OpenCV AI Kit with Depth (OAK-D) is a real time Spatial AI solution that utilizes deep learning for neural inference and a stereo camera for depth estimation. OAK-D is currently available only to enterprise customers but will be available to developers soon.
Dr. Satya Mallick, CEO of OpenCV.org, said, "Education is not a filling of a bucket but the lighting of a fire. Through this competition and OpenCV AI Kit, we will ignite a revolution in Spatial AI. The competition provides a level playing field for everyone. We invite everybody to use their hard work and creativity to win AI glory!"
The competition will consist of two phases. In the first phase, participants will submit a proposal for a real-world project that requires Spatial AI implemented using OpenCV AI Kit with Depth (OAK-D). The deadline for submitting a proposal is July 13, 2020. The top 15 teams in the first phase will be selected for the second phase. They will each receive an OAK-D smart camera, 30 days access to Intel® DevCloud for the Edge and will receive support from the OpenCV team for a month to implement the project described in their proposal. The top 3 teams in the second phase will receive cash prizes sponsored by Intel.
Matthew Formica, Director, Edge AI Developer Platform Product Marketing at Intel, said, "We're excited to see the innovations that OpenCV Spatial AI competitors develop with the Intel® Distribution of OpenVINO™ toolkit and a smart camera powered by Intel® Movidius™ VPU, that delivers the intelligence of deep neural networks and depth perception."
About OpenCV.org
OpenCV.org is a non-profit organization committed to serving a large and growing AI community by building an ecosystem of AI products and services. The OpenCV library, maintained by OpenCV.org, is the largest collection of open source computer vision algorithms (2,500+ optimized algorithms) in the world. In addition to its flagship library, OpenCV.org creates courses and hardware for AI. It supports and informs the community through its forum and newsletter. OpenCV.org is currently supported by its courses and membership programs.
Intel is a trademark of Intel Corporation or its subsidiaries.