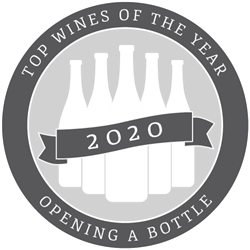 It is important to me to celebrate both the iconic fine wines of the world, as well as the wines that are simply lighthearted and unique.
DENVER (PRWEB) December 21, 2020
The popular Italian- and French-wine focused publication Opening a Bottle has unveiled its picks for the Top 12 Wines of 2020, as selected by Editor-in-Chief, Kevin Day. Earning the No. 1 spot was Valtellina-based Italian winery ARPEPE, for their 2009 "Buon Consiglio" Valtellina Superiore Grumello Riserva. The selections were made from nearly 500 carefully curated wines sampled over the course of the year.
"In previous years, our year-end list has been a top 10, but that was feeling like a stale format. This year's approach has more of a consumer mindset," notes Day, who oversees the website's editorial and consumer-centric virtual tasting program. "I wanted to give Opening a Bottle's readers a sense for which wines — of those sampled — I would put in a mixed case at a wine shop and take home with me again."
Because of this approach, the selection includes a diverse array of wines, even within the site's niche editorial focus of Italian, French and Spanish wine. Highlights from the list include a barrel-aged champagne (No. 2 from Billecart-Salmon), a white blend from Priorat (No. 10 from Clos Mogador) and even a frizzante sparkler from Liguria's Lumassina grape (No. 9 from Punta Crena).
"It is important to me to celebrate both the iconic fine wines of the world, as well as the wines that are simply unique and even lighthearted," says Day. "They may not have the same resonance over time, but their potential for immediate joy is what excites me as a writer. For many of us, that was paramount this year: did we ultimately find joy in a bottle of wine?"
Opening a Bottle recently launched a consumer-centric series of virtual tastings for its readership. Participants for these Zoom-based seminars buy access online, with the proceeds supporting an expansion of editorial coverage for the site. To source the wines, guests are given an exclusive Buyer's Guide to that category of wine (such as Nebbiolo or Cru Beaujolais), as well as personal consultation from Day. "I've enjoyed being able to share my insights and my photography with readers across the country, and to learn from them as well. Taste is highly personal, and its important to stay attuned to why people engage with certain wines and not others."
Heading into 2021, the site's editorial will begin to include new writers. "I want to maintain my focus on Italy and France, because that's where my expertise lies," says Day, who in the last year has earned the dual titles of Italian and French Wine Scholar™, both with Highest Honors, from the Wine Scholar Guild. "With the proceeds from the virtual tasting program, I have been able to hire contributors to cover other European wine regions and, most importantly, domestic and New World wine."
With that in mind, Day intends for next year's "top wines" feature to be more worldly in scope. But the mixed case format? That's likely here to stay.
About Opening a Bottle
Serving more than 150,000 unique readers per year, Opening a Bottle is the premier photocentric website devoted to the wines of Italy, France and Spain. Through its popular First-Taste Guide series to Old World appellations, curated lists of the Essential Winemakers to know, as well as monthly virtual tasting presentations, the site has become an indispensable resource for understanding and appreciating European wine. The site's primary writer, Kevin Day, is a one-time nominee for the 2019 Louis Roederer Wine Writers' Awards in the category of "Emerging Wine Writer of the Year."
Media Note
For more information on the editorial focus and reach of Opening a Bottle, or to learn more about submitting samples for editorial consideration, contact Kevin Day, Editor-in-Chief.