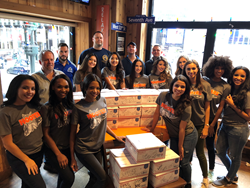 I love our country so much. It is important to let our Troops know we are thinking about them. I don't think we can ever show enough appreciation and gratitude," said 2019 Hooters Calendar Girl Rachael Swartz
CLEARWATER, Fla. (PRWEB) November 09, 2018
November kicks off the annual Operation Calendar Drop program at all Hooters restaurants. The program includes Hooters Calendar Girls assembling care packages for the Armed Forces to send overseas and guests of Hooters writing a personal note of thanks included with the calendar to send to our Troops. Operation Calendar Drop's goal is to let our Armed Forces know we are thinking of them during the Holidays.
Supporting our troops has a special place in the heart of Hooters Calendar Girls year round. For 2019 Hooters Calendar Girl Rachael Swartz the cause is extra special, as her husband is currently serving in the Air Force. "I love our country so much. It is important to let our Troops know we are thinking about them. I don't think we can ever show enough appreciation and gratitude," said Swartz. Swartz, who has appeared in the calendar the last five years and placed as the runner-up in the Miss Hooters International Pageant, has been able to send her husband and his squad calendars in addition to the many branches of the Armed Forces. She is featured on this year's calendar on the back cover.
The Operation Calendar Drop initiative, provides a way for guests of Hooters Restaurants to purchase a 2019 Hooters Calendar and attach a personal note of thanks to our troops. Through Operation Calendar Drop's partnership with Support The Troops http://www.supportthetroopsusa.org/ many of the Hooters Calendars are shipped in care packages to soldiers overseas.
The care packages are assembled in Wesley Chapel Florida, six days a week, often by volunteers that are troops that are back and want to come help. Care package are sent to Special Forces at Operating Bases all over the world including Afghanistan, Iraq, Yemen, Jordan, Africa and the Far East and consists of items such as coffee, tooth brush, tooth paste, Girl Scout cookies, tube socks, wet wipes, candy and 15 of the 2019 Hooters Calendars.
Since 2005, Operation Calendar Drop has distributed over 150,000 Hooters Calendars to our men and women stationed around the world. The 2019 Hooters Calendar features Miss Hooters International and Hooters Calendar cover girl Laiken Baumgartner from Georgia. There are also 12 feature girls from around the country and one calendar centerfold. Over 200 Hooters Girls from 6 Countries are in this year's calendar. The calendars are also available online.
For a full list of 2019 Hooters Calendar schedule of events or take part in Operation Calendar Drop visit, hooters.com/locations or follow Twitter.com/Hooters, Facebook.com/Hooters, Instagram.com/Hooters, Twitter.com/HootersCalendar, Facebook.com/HootersCalendar, Instagram.com/HootersCalendar.