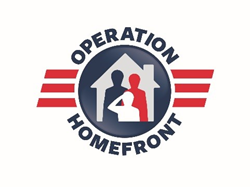 SAN ANTONIO, Texas (PRWEB) January 22, 2019
The current partial U.S. Government shutdown may be creating financial hardships for some of our military/veteran families. Families may be eligible for assistance through Operation Homefront's Critical Financial Assistance Program. Eligibility criteria is available on our website (Operationhomefront.org/cfa-eligibility-criteria).
Operation Homefront, which has been serving America's military families® since 2002. Earning Charity Navigator's prestigious 4-star rating for 11 consecutive years, Operation Homefront provides a broad spectrum of programs and services to help families overcome a variety of challenges while they are serving and as they transition and reintegrate back to the civilian sector.
About Operation Homefront: Founded in 2002, Operation Homefront is a national nonprofit organization whose mission is to build strong, stable, and secure military families so that they can thrive – not simply struggle to get by – in the communities they have worked so hard to protect. Recognized for superior performance by leading independent charity oversight groups, 92 percent of Operation Homefront expenditures go directly to programs that support tens of thousands of military families each year. Operation Homefront provides critical financial assistance, transitional and permanent housing and family support services to prevent short-term needs from turning into chronic, long-term struggles. Thanks to the generosity of our donors and the support from thousands of volunteers, Operation Homefront proudly serves America's military families. For more information, visit OperationHomefront.org.