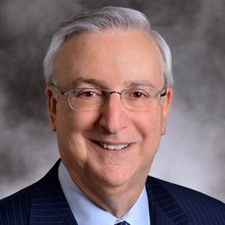 "It has been our honor to work with Tony Montalto on fulfilling Bob Hope's unwavering commitment to bring comfort to those who serve," - Brig. Gen. (ret.) John I. Pray Jr., President and CEO of Operation Homefront
SAN ANTONIO (PRWEB) February 01, 2021
Operation Homefront, the national nonprofit serving America's military families, has presented its prestigious Cornerstone Award to Tony Montalto, President and COO of the Bob & Dolores Hope Foundation. Operation Homefront presents this award to individuals who have gone above and beyond to help the organization accomplish its vital mission to build strong, stable, and secure military families so they can thrive, not simply struggle to get by, in the communities they have worked so hard to protect.
On behalf of the Bob and Dolores Hope Foundation, Mr. Montalto approached Operation Homefront in 2016 to offer their assistance in helping military families in Cleveland, Los Angeles and New York City – areas closely connected to the Hope family. Since then, the Bob & Dolores Hope Foundation, under Mr. Montalto's leadership, has provided more than $1.7 million in support. Most recently, in 2020, the foundation financed a special "challenge grant" that served to kickstart ongoing assistance for military families facing financial disruption and hardship resulting from the COVID-19 pandemic.
"It has been our honor to work with Tony Montalto on fulfilling Bob Hope's unwavering commitment to bring comfort to those who serve," said Brig. Gen. (ret.) John I. Pray Jr., President and CEO of Operation Homefront. "We are incredibly grateful to the Bob & Dolores Hope Foundation as their generous support has allowed us to deliver on our promise to serve military families in their time of need."
"Tony has committed enormous energy to helping preserve my father's legacy of honoring our military," said Linda Hope, Chair and CEO, Bob & Dolores Hope Foundation. "Generations of service members have been uplifted as a result and he is very deserving of this award that celebrates his resolve, through Operation Homefront, to help thousands of military families."
About Tony Montalto – President and COO, The Bob & Dolores Hope Foundation
For over 30 years, Tony Montalto acted as advisor and Certified Public Accountant (CPA) to Bob Hope – the legendary actor, comedian, and humanitarian. After Mr. Hope's death in 2003, Mr. Montalto worked closely with Bob's wife, Dolores, to continue building the Bob & Dolores Hope Foundation. He provides ongoing development and implementation of the Foundation's operational plan and works closely with Linda Hope and other board members to continue the Bob Hope Legacy and the philanthropic vision of Bob & Dolores Hope. Mr. Montalto has more than 50 years of experience as a CPA, providing financial services.
Instituted in 2015, Cornerstone Award recipients have included:

Gina Collins – former Chief Marketing Officer, Outback Steakhouse
Kathy Cox – former Senior Manager, Walmart Foundation
Chelle Davis - Manager, Investor Relations, Dollar Tree
Ed Delgado - CEO, The Five Star Group
Camille Jenkins - Vice President National Customer Relations, Meritage Homes Corporation
Marc Knowles - Global Military Team Leader, P&G
Mike Monroe - Director, Veterans Initiatives, A. James & Alice B. Clark Foundation
Heather Prill - Senior Manager, Strategic Partnerships & Programs, The Home Depot Foundation
Ken Ruff - VP, National Accounts, Beam Suntory
Rusty Smallwood - former AVP REO-Manager, JPMorgan Chase
About Operation Homefront: Founded in 2002, Operation Homefront is a national nonprofit organization whose mission is to build strong, stable, and secure military families so that they can thrive – not simply struggle to get by – in the communities they have worked so hard to protect. Recognized for superior performance by leading independent charity oversight groups, over 90 percent of Operation Homefront expenditures go directly to programs that support tens of thousands of military families each year. Operation Homefront provides critical financial assistance, transitional and permanent housing and family support services to prevent short-term needs from turning into chronic, long-term struggles. Thanks to the generosity of our donors and the support from thousands of volunteers, Operation Homefront proudly serves America's military families. For more information, visit OperationHomefront.org.