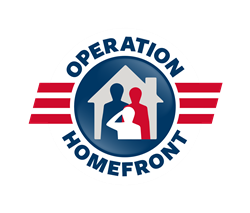 "Thanks to our generous partners, Holiday Meals for Military® allows us to provide much-needed support to military families so they can enjoy the holidays and a "thank you" from the communities they've worked so hard to protect." - Brig Gen (ret) John I Pray Jr, Operation Homefront President and CEO
SAN ANTONIO (PRWEB) November 15, 2021
Operation Homefront's Holiday Meals for Military program has launched with the goal of putting meals on the tables of more than 15,000 American military families by December 17, 2021. The program, which is in its 12th year, provides junior- and mid-grade enlisted military families with all the grocery items necessary to prepare a traditional holiday meal, helping to ease their financial hardships and to make the holiday season brighter for those who sacrifice so much on behalf of all Americans. The national nonprofit expects to achieve a key milestone this holiday season of serving its 550,000th military family member since the program officially began in 2010.
Thanks to the generous support of partners including Chobani, P&G, Grunt Style Foundation, Lockheed Martin, Food Lion, Bob Hope Legacy, San Antonio Shoemakers (SAS), and others, meals are being distributed at more than 80 events across the country this holiday season, starting with Fairchild, Washington and ending at Travis Air Force Base, California. This valuable program connects civilians to military families helping them start strong and stay strong this holiday season and beyond.
"Military families are often far from their loved ones during the holiday season, making it difficult for them to enjoy the traditions many Americans look forward to," said Brig. Gen. (ret.) John I. Pray Jr., President and CEO of Operation Homefront. "Thanks to the unwavering support of our many generous partners, our highly-regarded Holiday Meals for Military® program allows us to provide much-needed support to our military families so they can enjoy the holidays and a tangible "thank you" from the communities they have worked so hard to protect."
Chobani is a pivotal partner of Operation Homefront and its programs, including Holiday Meals for Military. Chobani is dedicated to making high-quality and nutritious food accessible to more people, while elevating its communities and making the world a healthier place.
"As a proud American company, Chobani is honored to partner with Operation Homefront," said Peter McGuinness, Chobani President and Chief Operating Officer. "Since 2018, Chobani has donated more than $2.25 million through our charity product, Hero Batch. This is a special red, white and blue yogurt we designed specifically to shine a spotlight on the U.S. military in stores all across the country and to raise money and support for military families in need all year long."
In addition, Chobani allocated donations to help military families directly impacted by the COVID-19 pandemic in California and Texas.
Procter & Gamble (P&G) joins Operation Homefront for the 6th year to provide an assortment of useful household and personal care items for the families attending our distribution events across the country. This ties to the Start Strong Stay Strong initiative launched with P&G earlier this year to brighten the lives of those that serve our nation and their families.
"P&G has been committed to supporting the military community for over 150 years and we are proud to partner with Operation Homefront," said Marc Knowles, Global Military Team Leader at Procter & Gamble. "Through our partnership, we have seen how their programs impact the lives of our nation's military families and together, we are steadfast in our commitment to help these families start strong in their communities and stay strong throughout their journeys."
For the 5th year in a row, thanks to a donation from Bob Hope Legacy, any military families on the waitlist will be moved up to ensure they also receive a meal. Bob and Dolores Hope's enduring wish to take care of the military and their families lives on through this impactful contribution.
Registration is now open for eligible military families to receive holiday meals nationwide, including events in Dallas-Fort Worth, TX, Tampa, FL, Washington D.C., San Diego, CA, and Norfolk, VA. The annual program will conclude on December 17. To see all Holiday Meals for Military® event locations and to register, visit OperationHomefront.org/holiday-meals-for-military.
In addition to distributing meals in November and December, Operation Homefront holds Holiday Meals for Military events throughout the year for Easter, Independence Day, Veterans Day, and more.
The Holiday Meals for Military program was born from a chance encounter in a supermarket in Utica, New York near Fort Drum. A soldier, his wife, and infant were in line with a handful of grocery items for their Thanksgiving meal. At the register, the family realized they were short money and began to remove items from their cart. A Beam Suntory executive was in line behind them, and he paid the $12 total for their groceries. In talking to the family, the executive learned the soldier had just returned from deployment and was having trouble providing for his family due to some unexpected expenses.
From that chance meeting, Holiday Meals for Military was born. A pilot program was launched to distribute 500 holiday meal kits to military families. Since 2010, the program has grown every year. The growth is due to the generous support of many sponsors who provide funding, food items, venues, storage, shipping and valuable volunteer hours.
This year's Holiday Meals for Military® program will comply with all federal, state, and local COVID-19 guidelines and deliver meals in a safe, socially distant drive-through format. Meals will be distributed as traditional meal kits or in the form of a gift card, giving families the opportunity to purchase their own holiday meal contents.
For more information on how to volunteer or donate, visit OperationHomefront.org/holiday-meals-for-military.
# # #
About Operation Homefront
Founded in 2002, Operation Homefront is a national nonprofit organization whose mission is to build strong, stable, and secure military families so that they can thrive – not simply struggle to get by – in the communities they have worked so hard to protect. Recognized for superior performance by leading independent charity oversight groups, 90 percent of Operation Homefront expenditures go directly to programs that support tens of thousands of military families each year. Operation Homefront provides critical financial assistance, transitional and permanent housing and family support services to prevent short-term needs from turning into chronic, long-term struggles. Thanks to the generosity of our donors and the support from thousands of volunteers, Operation Homefront proudly serves America's military families. For more information, visit OperationHomefront.org.
About Start Strong, Stay Strong
Operation Homefront launched 'Start Strong, Stay Strong,' a national brand campaign in March 2021. The initiative brings much-needed attention to the dedicated service of our military families and the support that Americans can provide to build the stability, connections and comfort these families deserve to start strong in their communities and stay strong throughout their journeys. #StartStrongStayStrong. Find out more at operationhomefront.org/startstrongstaystrong.