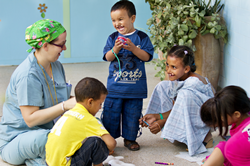 Emotional safety is just as important as physical safety, so we're glad we can bring it to the Operation Smile environment through providing psychosocial care.
VIRGINIA BEACH, Va. (PRWEB) December 05, 2022
While global surgical nonprofit Operation Smile has been repairing children's cleft conditions in low- and middle-income countries for 40 years, Operation Smile's mission far surpasses the procedures delivered in the operating room.
For decades, the organization has worked to improve global health systems by establishing comprehensive care centers in the countries where it works. These centers allow patients to continue receiving treatment for their cleft conditions and other needs resulting from those conditions. These treatments include dentistry, nutrition guidance, orthodontia, speech therapy, psychosocial care and more.
In health care settings, medical or surgical procedures are often a significant source of stress for children and their families. Potentially painful or invasive procedures can be especially challenging for a child's coping skills. Children with unrepaired cleft conditions live with additional challenges to their health, development and mental well-being. They face the possibility of experiencing both internalized and social stigma, bullying or ostracism.
Provision of psychosocial care, or child life services as known in many countries, is an integral part of the Operation Smile approach to serving patients and their families. Psychosocial care is defined as a whole-person, developmentally appropriate, family-centered, culturally sensitive approach to care, addressing the psychological, developmental and social aspects of the patient and family's experience.
Psychosocial care is provided by credentialed professionals including certified child life specialists, psychologists or health care play specialists. Preparing children for surgeries is known to reduce anxiety and includes age-appropriate teaching about diagnosis and procedures, clarifying misconceptions, coping skills instruction, coping technique role rehearsal and parental involvement. This helps children and their caregivers to better understand what to expect during their surgery and hospital stay, and in turn helps with their coping.
Dr. Priti Desai, a certified child life specialist and an associate professor in the Human Development and Family Science department at East Carolina University in Greenville, North Carolina, and Donna Trentel, a certified Child Life specialist and the director of Family and Volunteer Services at Nationwide Children's Hospital in Columbus, Ohio, are longtime Operation Smile volunteers and co-chairs of the organization's Psychosocial care Non-surgical Specialty Council.
Donna explained, "We prepare the child's caregiver in advance for what to expect before, during, and after the surgery to increase their capability to support their child." Having access to psychosocial care not only prepares the child for an immediate medical procedure but can have positive effects on the child's association with health care providers in the long run.
Priti elaborated, "Psychosocial care enhances the emotional safety for patients, and when trained professionals advocate for the provision of trauma informed, atraumatic care provided collaboratively by all team members, it greatly reduces the chance of creating potentially negative memories and pediatric medical traumatic stress."
For example, while serving on an Operation Smile surgical program in Morocco, Priti was working with a 15-year-old male patient, Abdul (name changed to protect privacy), who was exhibiting extreme apprehension about going for his cleft palate surgery. In the preoperative holding area where patients wait immediately prior to entering the operation room, Abdul reported that he had recently eaten a large snack. He had figured out that if he reported eating immediately prior to surgery, it would not be safe for him to be taken for an operation and he could avoid surgery. This happened a couple of times. His older sister who was accompanying him reassured the team that she personally supervised him, and that Abdul had not eaten anything in the prescribed time period prior to surgery.
This behavior of eating before surgery may seem like the behavior of a disobliging teenager to a casual observer, but for psychosocial care providers like Priti and Donna, this behavior could be a sign of underlying trauma surrounding health care and medical procedures. Priti validated Abdul's concerns, gained his trust, encouraged him to express his feelings and tried to learn the source of his concern. Abdul nervously revealed that, based on a prior experience, he knew another patient in his community who he thought had his jaw sutured shut for nearly one month after a cleft surgery. This other individual seemed frustrated the entire time, could not talk, and could only take in liquids through a straw. Abdul feared this would be his situation too, and this was why he was trying to avoid his surgery. The surgeon clarified the treatment plan for Abdul, and later he was safely able to have his surgery. As a psychosocial provider, Priti understands adolescent development. She took time to listen and assess, which led to addressing Abdul's fears and supporting him as a whole person.
When Donna and Priti arrive at Operation Smile program sites, they are most likely bringing along a suitcase full of toys, activity supplies, patient education materials, and will be scouting the space allocated to Operation Smile for an area to convert into a safe play area. Providing play activities during health care experiences is vital to prevent long term psychological trauma for children. In the United States, child life specialists typically have a designated play area, but in countries where psychosocial care is not a common practice, accessing adequate safe spaces to meet and interact with patients can be challenging. On the bright side, because psychosocial care is so highly prioritized at Operation Smile, psychosocial providers are able to meet and work with almost every patient and their caregivers who seek care.
On the many surgical programs Priti and Donna have attended over the past three decades while volunteering with Operation Smile, they were tasked with facilitating their routine psychosocial care interventions with patients awaiting surgery in addition to training local health care providers about child life knowledge and skills. Psychosocial care is a little-known practice and is often not prioritized in health care settings in low and middle-income countries.
"Our challenge in building capacity and creating a sustainable workforce development of psychosocial providers in Operation Smile program countries was due to having difficulty in identifying individuals with relevant child life academic background, credentials or training," Priti said.
Toward addressing this gap, Priti and Donna are working with Operation Smile to increase capacity for psychosocial care services by seeking providers from a more inclusive but relevant range of academic backgrounds in child/human development, early childhood education, pedagogy/teacher training, special education or psychology; and attempting to standardize psychosocial provider recruitment, training and credentialing for Operation Smile programs.
They are working collaboratively with the education and training and volunteer resources departments of Operation Smile as well as with U.S.-based and international psychosocial care providers toward achieving this goal. A training curriculum has been developed and is in the process of being vetted and will be made available for use in person or virtual learning modalities.
Additionally, during the actual surgical programs, Priti, Donna and other Operation Smile credentialed psychosocial providers work alongside local trainees who meet the more inclusive academic and work experience backgrounds to empower and credential a larger pool of psychosocial providers locally. They also work with nurses and other interdisciplinary team members to create awareness of every provider's role in promoting children's rights in health care settings and to create an emotionally safe patient experience.
As co-chairs of the psychosocial care specialty council, Priti and Donna are working together and with other volunteers to strive continuously to promote the training for competent psychosocial care providers to serve in Operation Smile's short surgical programs and at comprehensive care centers year-round.
"I think as Operation Smile continues to advance comprehensive care, the psychosocial piece is even more important because we know that people that have cleft conditions will likely experience ongoing medical care and often face ongoing socialization and community integration roadblocks. If we can avoid traumatic care and add that preventative piece, it sets people up for more compliance, more comfort, improved self-esteem and just a better relationship with health care providers overall, whether it is with Operation Smile's team or someone else," Donna said. "Emotional safety is just as important as physical safety, so we're glad we can bring it to the Operation Smile environment through providing psychosocial care."
When reflecting on her experiences working with Operation Smile, Donna said: "I think that one of the very special parts of the Operation Smile model is that they have intentionally incorporated psychosocial care in the care that they provide, and they are now putting more focus and leaving more space for further development and evolution of PSP programming. I think it really shows the maturity of the organization to focus not only on the surgical care they provide but also of the whole person approach." Priti added, "Operation Smile recognizes that it is not enough to just surgically repair the cleft lip or palate, but that it is also essential to address how that individual will cope with potential internalized or social stigmas and better engage with their schools, workplaces, and relationships in all community settings."
Completing the task of developing a widespread psychosocial care program for Operation Smile surgical program sites is just the tip of the iceberg for Priti and Donna. This specialty requires constant education, advocacy and role modeling for other health care providers as well. The goal of psychosocial care extends beyond ensuring that a child is prepared for surgery to empowering them to have more self-esteem and efficacy, so they can be a more integrated and productive member of their community.
With the dedication and advocacy of child life specialists like Donna and Priti, and the support of large nonprofit organizations such as Operation Smile, joined by the willingness of volunteers worldwide, the far-reaching outcomes of psychosocial care will not only be felt by those working with Operation Smile but by children, families, communities and health care professionals all over the world.
To learn more about the comprehensive care Operation Smile provides, click HERE
About Operation Smile
Operation Smile is a global nonprofit specializing in expert cleft surgery and care. Over the last 40 years, we have provided medical expertise, research, and care through our dedicated staff and medical and student volunteers around the world, working alongside local governments, nonprofits, and health systems, and supported by our generous donors. Learn more at https://www.operationsmile.org/ or by following @operationsmile on social media.
###