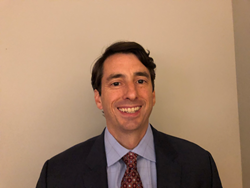 Shadmoor provides allocators, placements agents, and investment managers with a senior level of experience through a consultative and customizable approach to operational due diligence that makes our offering unique
WESTPORT, Conn. (PRWEB) October 29, 2019
Shadmoor Advisors, Inc., operational due diligence ("ODD") provider for the alternative investment community, today announced the appointment of David Umbricht as Managing Director, responsible for operational due diligence coverage across all investment strategies. Bringing two decades of financial markets, operational and trading experience to Shadmoor, Mr. Umbricht has worked with a broad range of organizations including a family office, a major fund of funds, a private bank in Europe and a commercial real estate firm.
"As the role of ODD in recognizing potential business risks has become more central to the asset allocation and ongoing portfolio management process, I am excited to join the Shadmoor team and share many years of accumulated experience with our expanding client base," noted David Umbricht, Managing Director, Shadmoor Advisors.
"Shadmoor provides allocators, placements agents, and investment managers with a senior level of experience through a consultative and customizable approach to operational due diligence that makes our offering unique. As our team now includes four persons, we have more capacity than ever before to deliver these types of services to a growing list of clients both in the U.S. and abroad," noted Michael Merrigan, Founder.
David Umbricht
David Umbricht's professional experience spans two decades including increasingly senior roles with a family office, major fund of funds, private bank and commercial real estate property development/management firm. Prior to joining Shadmoor, he served as a portfolio manager for seven years with Turtle Creek Investment Advisors (family office) and spent the previous eight years with Allianz's fund of funds, following three years with Citigroup private bank in Geneva, Switzerland. He began his career as a property manager for a commercial real estate firm in California. Mr. Umbricht is a CFA Charterholder and graduate of Boston College.
About Shadmoor Advisors
Shadmoor Advisors, Inc. ("Shadmoor"), based in Westport, CT, is an independent consulting firm that provides operational due diligence solutions to identify and mitigate operational risks associated with investment managers. Shadmoor is engaged by institutional investors, family offices, endowments & foundations, funds of funds, wealth management and advisory platforms and third-party marketing firms. In addition, investment managers hire Shadmoor to conduct mock operational due diligence evaluations to help investment managers gauge their operational robustness in advance of prospective investors. The firm was founded in 2014 by Michael Merrigan, former Managing Director and Global Head of Operational Due Diligence at Gottex Fund Management. Prior to joining Gottex Fund Management, Michael launched the first in-house operational due diligence program at General Motors Asset Management, whose assets at the time exceeded $100 billion and was among the world's largest pension plans. Visit http://www.shadmoor.com.
Media contact: Holly Singer, HS Marketing, holly@hsmarketing.com, 609.275.1303