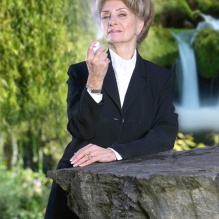 GRANTS PASS, Ore. (PRWEB) May 15, 2019
Date aired: May 6th, 2019
Guest: Steven Rotter, M.D., Internal Medicine, Oregon & Nancy Yonally Coleman, Corporate trainer and Health Management Consultant, Grants Pass, Oregon
https://www.voiceamerica.com/episode/114874/opioid-crisis
The opioid crisis in America and globally was the subject of intense discussion recently on Sharon Kleyne's internationally syndicated weekly talk radio program The Sharon Kleyne Hour Water Life Science®/Nature's Pharma®, The Power of Water® & Your Health sponsored by Nature's Mist® Face of the Water® on VoiceAmerica. Joining Kleyne for an urgent conversation on opioid addiction and what to do about it was Steven Rotter, M.D. and Nancy Yonally Coleman of Grants Pass, Oregon.
This is a huge crisis subject on which Water Life Science® founder Kleyne has focused for years. Kleyne and Dr. Anita Chen Marshall, who earned a dual doctorate in Pharmacy and Oriental Medicine, discussed addiction on the talk radio program in the summer of 2018. Seeking addiction and disease cures, Marshall says, "My patients are well versed about water and if they are not, I quickly get them up to speed!" Marshall cautioned against pollutants in the foods we eat. "Water can help flush them out of the body," she said. Kleyne added her belief that research will eventually prove that all addiction is rooted in sugar and glucose addictions. "One leads to the other," said Kleyne. "I'm convinced that research will prove this one day."
Another opioid and addiction research talk radio guest, Dr. Michelle Lau, President of the American Alliance of Acupuncture in Sacramento, California, pointed out that 60,000 people in the U.S. died last year from an overdose of pain medication. Lu promotes traditional Chinese medicine, which teaches that there are many channels in the body related to the different organs. Engaging in proactive health means following your body channels. In Chinese medicine, a pain indicates a blockage. Acupuncture is a safer, more effective way of dealing with that blockage than masking the pain with an opiate derivative.
Kleyne and Lau believe that insurance companies should be encouraged to pay for traditional Chinese medicine procedures, thus rewarding patients who demonstrate proactive health care. Digital marketing will make it easier for patients to learn more about their own bodies and health, thus leading to a healthier, safer and saner world. Lau organized a world forum on Traditional Chinese Medicine and Acupuncture in Washington, D.C. this March, inviting top practitioners, insurance executives and lawmakers from around the world. "Together," proclaimed Lau, "we can change the world!"
During the most recent talk radio program, Kleyne observed that we are polluting earth's atmosphere. "Earth's atmosphere is our life," said Kleyne, who added that earth's oceans are becoming garbage dumps. Kleyne declared, "Addiction is over-evaporation of body water loss. I'm alarmed by the word remission," Kleyne continued. "I want better education generally and physicians to be better educated about addiction. They must discover how to save more lives of people who are addicted. This is a crisis that must be resolved for the benefit of humanity."
John Gemmill, CEO of the Clean Ocean Foundation in Australia, agreed. Gemmill's Clean Ocean Foundation spearheads clean-up and educational initiatives that are raising awareness about water pollution and cleaning up vast segments of the oceans.
"The ocean is having a lot of problems and is crying to us," said Water Life Science® innovator Kleyne. Kleyne and Gemmill agreed that earth's survival depends on cleaning up the world's oceans.
In addition to assigning blame and stopping addictive behavior, there is also the care required to try to save hundreds of thousands of opioid sufferers. Rotter, an M.D. with a background in internal medicine has thirty-plus years of dealing with addiction and opioid abuse and Coleman, a corporate trainer and health management consultant, has more than forty years of experience dealing with addiction and opioid abuse. Both are involved with Grace Roots: Pathways to Wellness in Grants Pass, Oregon, which has helped treat thousands in their struggles against addiction and opioid abuse.
"Around 1990," said Rotter, "there was a change in culture in the U.S. that came from the American Medical Association and the Pharmaceutical industry." That change conditioned patients to leave behind over-the-counter pain medications like Advil and Aleeve for more powerful and addictive pain medications.
Today, Coleman champions a multifaceted approach to winning the battle against opioid abuse. "To have any success at all," said Coleman, "there must be ownership of the problem at every level—locally, regionally, nationally, internationally. We are working together with law enforcement, politicians, schools, doctors, parents, and clergy to find solutions. Yet," Coleman continued, "there are no simple answers. It does 'take a village'."
Rotter cited ongoing progress, announcing a relatively new treatment center in Grants Pass that has treated 700 patients in two years. Coleman added that a new program for pregnant women is being developed as well as a program focusing on newborn children with drug-addicted parents.
Rotter, Coleman and Kleyne noted the importance of ongoing funding in the fight against addiction and opioid abuse. Rotter and Coleman said that government and private sources are providing grants and other support. Kleyne urged them to approach insurance companies that she believes would be willing to contribute.
"And let us not forget again," warned Kleyne, that "life on this planet depends on water. Water is the Breath of Life® that will sustain humanity through eternity." Kleyne also stressed that insurance companies must give humanitarian support to the fight against opioid addiction.
If you would like to listen to the talk radio program featuring the conversation between Steven Rotter, M.D., Nancy Yonally Coleman and Power of Water® talk radio host and Water Life Science® lifestyle and dry eye educator Sharon Kleyne as they discuss addiction, proactive health, water and the opioid epidemic and what can be done about it, follow this link: https://www.voiceamerica.com/episode/114874/opioid-crisis