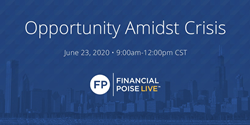 Join leading financial experts in "Opportunity Amidst Crisis," a live webinar in three acts premiering June 23, 2020.
CHICAGO (PRWEB) June 02, 2020
The challenges facing businesses in our post-COVID-19 economy have been nothing if not dramatic. To creatively help distressed business owners faced with making quick and crucial decisions, several non-profit organizations have joined forces to produce a live webinar, "Opportunity Amidst Crisis."
The three-hour, three-act webinar 'play' is designed to give businesses a basic understanding of their options when facing a financial crisis. It is being co-produced by the Turnaround Management Association, Financial Executives International, the Private Directors Association, the Association of Insolvency & Restructuring Advisors, the Midwest Business Brokers & Intermediaries, and the New York Institute of Credit. Registration, at a cost of $79.99, is available on the Opportunity Amidst Crisis website.
Opportunity Amidst Crisis actors will include some of the leading financial experts in the country, including attorneys, investment bankers, financial advisors, private equity principals, commercial lenders, accountants, business owners, and private company directors.
For a complete list of panelists, please see the Opportunity Amidst Crisis website. For more information about the webinar, or to tap into the expertise of one of our panelists for a story you're working on, please contact:
Carrie Miller
Managing Editor
Financial Poise
773-906-6468
cmiller@financialpoise.com
About Financial Poise –
Financial Poise has one mission: to provide reliable plain English business, financial and legal education to investors, private business owners and executives, and their respective trusted advisors. Financial Poise content is created by seasoned, respected experts who are invited to join our Faculty only after being recommended by current Faculty Members. Our editorial staff then works to make sure all content is easily digestible. Financial Poise is a meritocracy; nobody can "buy" their way into the Financial Poise Faculty. Start learning today at https://www.financialpoise.com/
About DailyDAC-
DailyDAC – Distressed Analysis & Commentary / Distressed Asset Central – is the leading source of information for private equity, family offices, and other opportunistic investors; owners, board members and C-Suite executives of struggling businesses; and attorneys, accountants, investment bankers, and other trusted advisors who do not specialize in corporate restructuring and insolvency. DailyDAC's sister websites, Financial Poise and ChamberWise, provide a wealth of information about other topics for investors and business owners/executives.