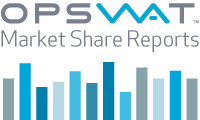 The lack of hard disk encryption on laptops is a surprising statistic considering how much personal information is stored on these machines and the higher occurrence of laptop thefts."
San Francisco, CA (PRWEB) October 23, 2013
OPSWAT today announced the release of their quarterly market share report, which includes analysis of antivirus, hard disk encryption and Windows operating system usage worldwide. In addition to market share coverage, the report provides a side-by-side comparison of the most popular antivirus products among different Windows operating systems.
The quarterly report focused on the leaders in both the antivirus vendor and antivirus product market worldwide. In the antivirus vendor market, Microsoft held the top spot with a 25.4% share worldwide (based on users with real-time protection enabled). Avast finished second in the report with a 23.6% share, with AVG (8.3%), Symantec (7.6%) and ESET (7.2%) rounding out the top five. avast! Free Antivirus continued its reign as the leading antivirus product worldwide with a 19.6% market share (based on users with real-time protection enabled). Microsoft Security Essentials finished second with a 17.2% market share and Windows Defender (7.8%), Avira Free Antivirus (5.8%) and AVG Anti-Virus Free Edition (4.8%) finished third, fourth and fifth within a couple of percentage points of one another. The report also showed the most commonly detected antivirus products among Windows operating systems, with avast! Free Antivirus (25%) the most popular antivirus on the Windows 7 platform.
In the addition, the report includes analyses of users with more than one antivirus product installed. The report shows that nearly 65% of Windows 8 users have a second antivirus product installed, showing that users are likely to look for additional antivirus support beyond Windows Defender, which is pre-installed on Windows 8. Windows XP had the lowest percentage of users with multiple antivirus products detected, at 9%.
"This quarter's report shows a low percentage of users having disk encryption present on their laptops," said Derek Bass, Marketing & Media Associate at OPSWAT. "This is a surprising statistic considering how much personal information is stored on these machines and the higher occurrence of laptop thefts."
The report also highlighted the percentage of users with hard disk encryption installed and running on their machine. The report showed very few users have encryption actively running on their machines with only 2.8% of laptop users having at least one drive encrypted, compared to around one percent (1.1%) of desktop users.
The data for the quarterly market share report was collected from users of OPSWAT's free Security Score tool and GEARS Cloud solution. These tools both provide information about the security applications installed on a user's machine and the status of the applications (e.g. whether real-time protection is enabled or disabled, if their antivirus definitions are up-to-date).
For more information regarding this report please contact marketing(at)opswat(dot)com. For more information about OPSWAT or any of the products listed in this release, please visit opswat.com.
-----------
About OPSWAT
OPSWAT is a San Francisco based software company that provides solutions to secure and manage IT infrastructure. Founded in 2002, OPSWAT delivers solutions that provide manageability of endpoints and networks, and that help organizations protect against zero day attacks by using multiple antivirus engine scanning and detailed file filtering. OPSWAT's intuitive applications and comprehensive development kits are deployed by SMB, enterprise and OEM customers to more than 100 million endpoints worldwide. To learn more about OPSWAT's innovative and unique solutions, please visit http://www.opswat.com.