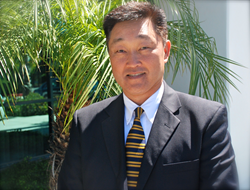 Optelec is committed to provide high-quality products and personalized service to our partners in the optical industry. Joseph Chung not only shares this objective, but his vision is to expand these principles even further.
Vista, CA (PRWEB) April 07, 2014
Optelec, a world leader in innovative and life-changing assistive technology for the blind and visually impaired, has appointed Joseph S. Chung as Director of Sales, Western US.
In his new role, Chung will work closely with the Authorized Optelec Dealer Network and key industry partners to expand the referral channels for Optelec's professional optical solutions, electronic video magnification and speech devices for increased low vision rehabilitation. He will develop and drive outreach campaigns nationwide, such as Optelec's Beyond Reading Glasses initiative, within the professional optical community and ShopLowVision.com, Optelec's professional division, by strengthening existing relationships and building new ones.
"Optelec enthusiastically welcomes Joseph Chung to our organization," said Stephan Terwolbeck, president of Optelec, U.S. Inc. "His expertise in the optical industry, as well as more than 20 years of sales and management experience are valuable assets in our efforts to better serve our customers. Moreover, Joseph's approach to personalized service and his perspective of developing business opportunities blends well with Optelec's vision."
Prior to joining Optelec, Chung was the territory manager at Eschenbach Optik of America. During his 11 year tenure with the company, he provided specialized service to eye care professionals in Southern California, Arizona and Las Vegas, and generated a substantial growth in business. Before becoming a leading force in the optical industry, Chung honed his skills by holding highly acclaimed sales and management positions with ABC School Supply Inc., William Wrigley Jr. Company and Gallo/Vintage Wine Company.
About Optelec
Optelec enables those who are impacted by vision loss due to retinal eye diseases such as Age-Related Macular Degeneration, Glaucoma or Diabetic Retinopathy, to remain independent and enjoy life, by reaching out with simple and effective low vision and blindness solutions. Based in the United States, Canada, Netherlands, Belgium, Germany and the United Kingdom, Optelec is the leading distributor, designer and manufacturer of life-changing assistive technologies for people who are visually impaired and blind. Optelec continues to be the global front-runner with a multi-tier distribution in more than 70 countries worldwide. With US headquarters in Vista, CA, Optelec offers a nationwide network for low vision solution and rehabilitation, as well as products for eye care professionals through the ShopLowVision.com division. For more information, visit http://www.Optelec.com, http://www.ShopLowVision.com or call 800.826.4200.