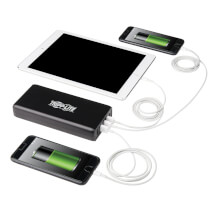 "The new products are ideal for use with power‑hungry devices like a MacBook Pro, Google Pixelbook or Qi-certified phone. Getting power quickly can make the difference between being productive and being caught with a device that can't be used because the battery is drained."
CHICAGO (PRWEB) December 11, 2019
Tripp Lite, a world-leading manufacturer of power and connectivity solutions, has introduced new charging solutions that help make it faster and more convenient to keep battery-intensive devices powered up. New products include a power expansion hub for Apple USB‑C chargers, a compact high-output charging station and a wireless charging pad for Qi-certified phones. The additions broaden Tripp Lite's already robust offering of charging solutions for mobile devices.
"For organizations or busy families that depend on staying connected through smartphones, tablets or other mobile devices, these solutions make fast charging more accessible," said David Posner, Tripp Lite's Director of Product Marketing, Connectivity. "The new products are ideal for use with power‑hungry devices like a MacBook Pro, Google Pixelbook or Qi-certified phone. Getting power quickly can make the difference between being productive and being caught with a device that can't be used because the battery is drained."
The power expansion hub, U280‑A04‑A3C1 connects to an Apple USB‑C PD charger to provide three USB‑A ports and one USB‑C port to charge up to four mobile devices simultaneously, including a MacBook Pro. The USB‑C port provides maximum power output up to 45W, while one of the USB‑A ports offers Quick Charge 3.0 charging speeds up to four times faster than conventional USB charging.
The compact high-output USB charging station, U280‑005‑WS4C1 provides a total of 110W of power in a small housing that fits easily in a laptop bag. The station has four auto-sensing USB‑A ports and one USB‑C port that charges PD 3.0 compatible devices up to four times faster than normal USB charging. It is USB-IF certified to ensure the highest-grade construction and performance.
The Qi‑certified wireless charger, U280‑Q01FL‑BK transfers power to compatible smartphones without the need to connect a cable or remove the phone from its case. This wireless charging pad delivers up to 10W of power and works with Qi phones such as the Samsung Galaxy S10 and the iPhone 8 and later models when the phone is rested on the charging pad.
All three of the new chargers protect connected devices from overcharging and overheating. Two-year warranties assure users of reliability and provide peace of mind.
Get more information about Tripp Lite's full line of USB and AC charging solutions for up to 48 devices at tripplite.com.