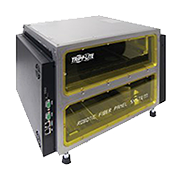 CHICAGO (PRWEB) November 18, 2020
Tripp Lite, a global manufacturer of power protection and connectivity solutions, revolutionizes fiber network management with new Mini Robotic Fiber Panel Systems. These rack-mounted patch panels use remote control and automated robotic latching to reconfigure layer 1 fiber connections. Requiring only 7U of rack space, as opposed to the original 10U models, they are a better fit for containerized data centers, edge computing and remote computing sites, as well as larger installations that have limited fiber connections.
Mini Robotic Fiber Panel Systems regularly reconfigure up to 102 duplex fiber connections to help optimize network performance and reduce the amount of time spent manually making and breaking connections. Available in a singlemode fiber model or a multimode fiber model, these systems use robotic latching technology to perform connections in 15 seconds, compared to the hours or days it may take waiting for on-site support. In addition to reducing IT support costs and downtime, the systems can reconfigure under-utilized or over-utilized connections to maximize infrastructure value.
"Mini Robotic Fiber Panel Systems are a powerful tool for resolving network connection issues," said David Posner, Vice President of Product Marketing, Connectivity. "They're also a way to make a growing Bandwidth-on-Demand service more manageable, and to get a higher rate of equipment usage. These systems help IT professionals simplify the way they manage their fiber networks."
Key Benefits of Tripp Lite's Mini Robotic Fiber Panel Systems

Automated reconfiguration of fiber connections optimizes network performance while minimizing engineering time
Robotic latching technology is faster and more precise than manual connection
7U rack-mount units conveniently fit in small edge network installations
Software interface provides remote control from nearly anywhere
Scalability up to nearly 500,000 ports adds future-proof flexibility
Learn more about the Mini Robotic Fiber Panel Systems.
See Tripp Lite's 512-port Robotic Fiber Panel Systems at tripplite.com.