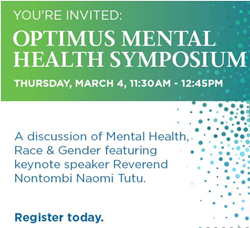 BRIDGEPORT, Conn. (PRWEB) February 25, 2021
OPTIMUS Health Care, Inc., a leading community health center network headquartered in Bridgeport, CT, and the OPTIMUS Foundation are offering an online mental health symposium on March 4, from 11:30 am to 12:45 pm.
The event, entitled "We Hope, We Lift, We Rise. Building Connections: A Community Conversation on the Intersectionality of Mental Health, Gender, and Race," will feature keynote speaker Rev. Nontombi Naomi Tutu, daughter of Archbishop Desmond Tutu and a leading international voice on human rights, race and gender issues.
The focus of the symposium is an examination and discussion of the health and well-being of women and girls in underserved communities and in all communities, with particular attention to the social determinants of health that impact us all, and have been especially highlighted during the COVID-19 pandemic.
The online symposium program includes the keynote address, followed by an overview of the emme Coalition (Empowerment, Mindfulness, Motivation and Education), an OPTIMUS Health Care program centered on the physical, emotional and professional development of girls and women. The emme Coalition is made possible by funding from Fairfield County's Community Foundation.
A panel discussion will then address related issues. Panelists include Coleen Dobo, PsyD, Senior Vice President of Adult Services at Community Health Resources, and Beth Richie, PhD, Criminology, Law and Justice Department Head and Professor of African American Studies at University of Illinois at Chicago, and Dr. Elizabeth Ortiz-Schwartz, Child and Adolescent Psychiatrist at Silver Hill Hospital in New Canaan, Connecticut.
To register for the symposium, click here.
OPTIMUS Health Care wishes to recognize the support of event sponsors, which include Sacred Heart University/College of Health Professions, Community Health Network of Connecticut, Inc., People's United Bank, Diversified Building Services, Base Technologies, Bridgeport Hospital/Yale New Haven Health and Bridges Healthcare, among others.
OPTIMUS Health Care serves as the patient-centered medical home for all its communities, enabling all patients to achieve and maintain a positive state of wellness, particularly the uninsured and underserved. OPTIMUS maintains a network of 30 healthcare facilities across southwestern CT, and is a 501(c)(3) non-profit organization, supported through patient revenues, the generous support of the community, and grants from federal, state and local government and private and public foundations.
OPTIMUS FOUNDATION supports Optimus Health Care, Inc. in providing affordable and quality health care, particularly its programs that support the health and social welfare of women, infants and children.