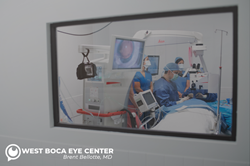 The only way to determine which corrective eye surgery would best suit is by a detailed eye exam with an ophthalmologist, such as Dr. Brent Bellotte from the West Boca Eye Center.
BOCA RATON, Fla. (PRWEB) January 14, 2020
The multiple alternatives available to ophthalmologists today means that most vision problems can be easily corrected, with results generally removing the need for any form of corrective lens post-procedure. Dr. Bellotte, lead clinician at the West Boca Eye Center, sheds some light on the differences between the various types of laser eye surgery.
Over recent years the advances in corrective eye surgery have been tremendous, meaning that eye doctors today have an extensive array of options within their treatment arsenal. Such therapeutic medical care is achieved thanks to the intricacies and progression of laser surgery, with procedures being so safe and sophisticated it means that most common eyesight issues can be quickly rectified, usually with outstanding results.
Having a selection of alternatives allows an eye surgeon to truly personalize treatment to adapt to virtually any form of visual degradation. Thanks to this wide choice, ophthalmologists can use their skill and experience to determine the best course of action for individual conditions, taking into account a combination of the problem to be treated, the patient's specific vision needs, expectations, and lifestyle. The various procedures are fast, safe, and effective, with the following being some of those that are routinely carried out for both near and farsightedness.
Small Incision Lenticule Extraction (SMILE)
This minimally invasive procedure is used to correct nearsightedness (myopia). It's one of the newest laser surgery options to be approved by the FDA and is often recommended for those who suffer from dry eyes. The procedure can be carried out on those with or without astigmatism and takes around 10 minutes to perform on each eye.
Results are typically 20/40 vision or better, negating the need for contacts or glasses post-surgery. Recovery times vary from a couple of days to several weeks for the vision to fully stabilize.
Photorefractive Keratectomy (PRK)
This was the first surgery of its kind to be approved by the FDA and has been performed by surgeons in the US for over two decades. It can be used to correct both nearsightedness and farsightedness, with or without astigmatism. It takes a similar amount of time to carry out as SMILE, with results usually being that of 20/20 vision.
It's slightly more invasive than the other options and can be associated with longer recovery times. However, for those who need a high correction and have thin corneas, this is often the preferred avenue of treatment.
Laser Assisted In Situ Keratomileusis (LASIK)
This is one of the most popular and commonly known of all corrective surgeries, with outstanding results in 99.5% of all treatments. Once again it can be used for both near and farsightedness, with or without astigmatism.
Although it's more invasive than the other procedures it has the quickest recovery time of all, with many patients reporting a sharp return to great vision within 24 hours. The majority of laser eye surgeries carried out today are LASIK, but because of the extent of tissue removal, it's not a technique that can be carried out on everyone.
Determining The Best Corrective Eye Procedure
The wide array of options now means that a far greater number of people are candidates for laser vision correction. The only way to determine which would best suit is by a detailed eye exam with an ophthalmologist, such as Dr. Brent Bellotte from the West Boca Eye Center.
The key to determining the optimal treatment for an individual's circumstances is through a combination of which procedure is appropriate, patient expectations, and their lifestyle. Thanks to the variety of choices, plus additional lens-based refractive surgery for those who're not suitable for laser corneal surgery, eye doctors can now provide corrective surgery for a wide array of visual conditions.
With technology continually advancing, the ultimate care and procedures continue to progress and are carried out by surgeons who're at the cutting-edge of their trade. Such leading-edge treatment allows for complex eye cases to be effectively remedied in a manner than even a few short years ago wasn't possible. Therapies are only set to become more state-of-the-art, so partnering with an eye center/doctor that has academic level diagnostic facilities, such as the West Boca Eye Center, further increases the options available to treat even the most difficult of visual conditions.
For more information visit https://westbocaeyecenter.com