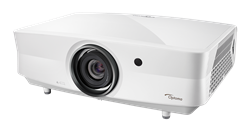 The Optoma ZK507 is a standout addition to our line of market-leading 4K UHD laser projectors, providing high brightness, incredible color and strong reliability in a compact design
FREMONT, Calif. (PRWEB) October 08, 2019
Optoma, the world's number one brand in 4K UHD projection technology,* today introduced its Optoma ProScene ZK507, a compact 4K UHD laser projector with 5,000 lumens of brightness designed for higher education, corporate environments and other professional installations. This mid-range powerhouse projector complements the array of innovative 4K and laser light source portfolio introduced this year, including the Optoma ZK1050, ZK750 and CinemaX P1, contributing to the company's overall 4K market leadership.
Equipped with some of the most advanced projection technologies on the market, including 4K UHD resolution with 8.3 million pixels, HDR10 and HLG color compatibility, a laser light source, and optimal brightness, the Optoma ProScene ZK507 delivers incredibly detailed images, videos and graphics with bright whites, deep blacks, rich colors and razor-sharp text. The combination of these various features makes the ZK507 an optimal choice for professional applications requiring state of the art resolution and high-impact image performance.
Installation is also a breeze, with vertical lens shift, 1.6x optical zoom and a 12V trigger, along with a compact size, light weight, and quiet operation. RS-232C and LAN connectivity also enable simple integration and control with industry standards.
Optoma ZK507 additional specifications:

Dimensions: 19.6" x 6" x 13"
Weight: 22 lbs.
Brightness: 5,000 ANSI lumens
Contrast Ratio: 300,000:1
Light Source: DuraCore Laser
Light Source Life: Up to 30,000 hours of operation in Eco mode
Lens shift: 15% vertical
Throw Ratio: 1.39:2.22
Zoom: 1.6x
Audio: 2x 5W stereo speakers
I/O: HDMI 2.0, HDMI 1.4, 2X USB-A, 12v trigger, RS232, LAN and VGA
"The Optoma ZK507 is a standout addition to our line of market-leading 4K UHD laser projectors, providing high brightness, incredible color and strong reliability in a compact design," said Brian Soto, head of product management at Optoma Technology. "Incredible image quality, high brightness and built-in installation features are a staple of Optoma ProScene projectors, giving our customers and partners the confidence that our products will provide quality, long lasting performance."
The Optoma ZK507 is available now for an estimated street price of $3,999 at authorized retailers. For more information, please visit https://www.optoma.com/us/product/zk507-w/.
*PMA Research, Q1-Q2 2019
About Optoma Technology
Optoma combines cutting-edge technology and innovation to deliver remarkable visual display products designed to connect audiences with engaging video and audio experiences. From the company's ProScene projectors and Creative Touch interactive flat panel displays, to LED displays, Optoma's suite of products can meet the demands of nearly any professional environment, including conference rooms and classrooms, digital signage, corporate, houses of worship, retail, simulation environments and control rooms. Optoma Technology is the U.S. headquarters for The Optoma Group, with continental headquarters also in Europe and Asia. For more information, please visit http://www.optoma.com.