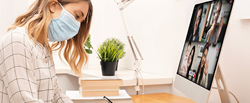 "Teens and adults are facing new COVID-19 related challenges that lead to addiction," continued Schmidt. "The new Opus EHR has new, innovative functionality requested by our customers, including video conferencing, patient data, scheduling, and practice management workflows."
MIAMI GARDENS, Fla. (PRWEB) October 01, 2020
Opus Behavioral Health, an EHR, Telehealth and Patient Engagement company, today launched the "first of its kind" Telehealth platform made specifically for Addiction Treatment and Behavioral Health. The new platform provides a seamless user experience with the best in class Opus Electronic Health Record platform for multi-location Substance Use Disorder (SUD) facilities. The new innovative Telehealth functionality optimizes America's addiction treatment delivered both inside a treatment facility or when employees collaborate remotely.
"The pandemic has changed the way drug and alcohol addiction treatment is being delivered," says James Schmidt, CEO of Opus Behavioral Health. "Unlike Zoom or other mainstream video conferencing tools, the new Opus Telehealth Platform is the only technology that is made specific to the SUD vertical and offers comprehensive tracking of patient time on individual and group sessions, which is a must-have for these centers to bill properly to health insurance companies. We also increased the security above HIPAA compliance standards required to care for substance abuse disorder patients."
The Opus Telehealth platform has become a welcomed resource for Opus Behavioral customers and works seamlessly with its EHR Platform. Another unique feature is the platforms form and mobile signature engine which provides electronic document signing workflows that allow users to quickly send patient consent, and other required forms, to treatment center clients via their mobile device for easy signatures.
The Opus Telehealth platform allows medical professionals to review remote sessions, schedule individual and group sessions, while tracking required documents and recording notes from anywhere on any device that integrates directly into their EHR. Clinical professionals who treat substance use disorder patients have a new solution to help save lives and fight against drug and alcohol addiction.
"We've enhanced digital health care," says Schmidt. "Our Opus Telehealth Addiction Treatment, SUD, and Behavioral Health Platform will integrate with any electronic health record platform, for our customers to streamline addiction therapy, clinical data, and up-to-date patient information to accurately bill and get paid on insurance reimbursements."
With over 21 million Americans suffering from addiction as reported by the Addiction Center, the demand for addiction treatment is high.
"Teens and adults are facing new COVID-19 related challenges that lead to addiction," continued Schmidt. "The new Opus EHR has new, innovative functionality requested by our customers, including video conferencing, patient data, scheduling, and practice management workflows."
For patients, the benefits are also tangible. Remote patient group check-in and up-to-date record-keeping helps improve therapy and provides dashboards for clinical and medical practices to stay connected in real time.
"As Americans, and the world, continue to navigate the post-COVID-19 environment, the demand for accessible addiction and mental health treatment is skyrocketing," says Schmidt. "The Opus EHR platform provides a clinical advantage for patient care and medical practice operations."
About Opus EHR
Founded in 2017, Opus Behavioral created Opus EHR to be a complete clinical solution. Opus EHR was engineered to meet the unique requirements of the addiction treatment, substance abuse disorders (SUD) and the mental health industry. The technology platform offers treatment providers the power and customization capabilities they need, along with the ease of use required for successful implementation. Opus Behavioral works tirelessly toward continuous technology and user interface improvements to meet the ever-changing needs in treatment. As such, Opus Behavioral continues to be a benchmark in the industry.
Learn more about the Opus EHR and Telehealth platform at http://www.opusbehavioral.com.
Contact information:
Joby Semmler
Sr. Marketing Manager
Opus Behavioral Health
joby@opusbehavioral.com