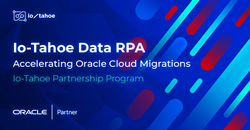 "Together, Io-Tahoe and Oracle deliver customers cost savings and efficiencies, cutting project timelines in half, whilst streamlining the migration and transformation to Oracle Cloud." - Ajay Vohora, CEO, Io-Tahoe
NEW YORK (PRWEB) June 10, 2021
Oracle Partners that manage client migrations to Oracle Cloud now have access to the Io-Tahoe Data RPA Platform. The Platform and its AI/ML driven Digital Workers help partners gain a deeper understanding of client's data estate, which is one of the key pre-requisites to achieving a rapid and efficient Oracle Cloud migration.
With any migration, there are inherent risks involved, specifically when it comes to decisions on what data can be migrated, when it can be migrated, and who has access to it. These decisions can have significant impacts on both internal business units and external customers.
Io-Tahoe's Data Diagnostic Service for Oracle is a cloud-ready module that runs on Oracle Cloud Infrastructure, automatically breaking down the complex migration process. The Data RPA Platform connects to all customer databases and applications, profiling them down to the level of actual data values (not just metadata), automatically generating an accurate Data RPA Catalog.
AI/ML driven Digital Workers perform repetitive, painstaking tasks required to unify, standardize, and serve data at an enterprise scale, accelerating the migration and time to value from months down to just days. The previously manual processes of data lineage, data classification, data deduplication, and sensitive data identification are now completed by automated Digital Workers that produce a single version of the truth that customers can rely on.
CEO of Io-Tahoe, Ajay Vohora, explains that, "Oracle Partners now have the advantage of easily accessing our Data RPA Platform and its 'Digital Workers as a Service' to quickly provide a 360-view knowledge graph of Oracle data that their customers are demanding without impacting the business or risking regulatory compliance. Together we deliver customers cost savings and efficiencies, cutting project timelines in half, whilst streamlining the migration and transformation to Oracle Cloud."
Oracle Partners can access Data RPA as a Diagnostic Managed service from Io-Tahoe or become a Reseller Partner for the platform and build their own managed service, increasing their consultancy and professional services capabilities to clients. Benefits of Oracle Data Diagnostic Service include:

Accelerated adoption and integration of Oracle Cloud by customers
Gaining rapid, fact-based insights across all customers fragmented data silos
Identifying sensitive data, privacy risks and missing security controls
Quantifying data quality impact on achieving business outcomes for customers
Assessing remediation activities to improve data governance by customers
Identifying areas for cost optimization and savings through Oracle cloud migration by customers
About Oracle
Oracle offers integrated suites of applications plus secure, autonomous infrastructure in the Oracle Cloud. For more information about Oracle (NYSE: ORCL), please visit us at http://www.oracle.com.
About Io-Tahoe
Io-Tahoe is the leader in Enterprise Data RPA software, harnessing the power of our patented data automation technologies to help organizations empower employees to achieve more. Companies around the world rely on Io-Tahoe data automation technology to guide action and drive change that results in millions of dollars saved.
With origins in both industry and the open-source community, Io-Tahoe has always been devoted to simplifying data, sharing knowledge, and pursuing truths. Founded in 2017, Io-Tahoe brings together data engineering, science, and analytics on an open, unified platform so data teams can collaborate and innovate faster.
Venture-backed and headquartered in New York (with offices on three continents) and a growing ecosystem of customers, Io-Tahoe is on a mission to help data teams solve the world's toughest problems. For more information, visit https://www.iotahoe.com/