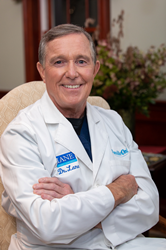 The implants that we place are top brand names in the implant field and we have extreme confidence in our surgery.
PLYMOUTH, Mass. (PRWEB) February 04, 2020
Lane Oral Surgery provides a permanent and long-term solution to tooth loss through dental implants. Dr. William Lane, respected oral surgeon in Plymouth and Sandwich, MA, places full mouth dental implants to restore the smile, function and quality of life of patients who are living with missing or failing teeth. While the cost of dental implants can vary, Lane Oral Surgery does everything they can to make the solution affordable and beneficial for patients.
"At Lane Oral Surgery the costs of dental implants are revealed and explained to you before any treatment is undertaken so patients have an understanding of what the financial perspective will look like," says oral surgeon, Dr. Lane. "The implants that we place are top brand names in the implant field and we have extreme confidence in our surgery. In fact, we warranty the implant so that if anything does happen and the implant needs to be removed and replaced, we do that at no cost."
Dental implant cost can vary for each individual patient. Each person's mouth is unique to them and, depending on their needs, wants and goals, the overall cost of the dental implants and the surgery may change. Lane Oral Surgery utilizes industry-leading dental implants which ensures that patients have healthy, long-term results. Some of the factors that may affect the cost of dental implants can include:

Number of implants needed
Bone grafting or gum disease treatments
Location of tooth to be replaced
Tooth extraction
As an oral surgeon, Dr. Lane has years of experience and education backing him, making his success rate over 95 percent. With every implant case, the practice also offers a dental implant warranty. This warranty covers the implant, at no cost to the patient, if a problem occurs and it needs to be extracted and replaced.
Dental implants are considered to be the gold standard of tooth replacement today. The dental implant cost may be more than temporary solutions, like dentures or bridges, but the results provide superior quality of life, health and aesthetic benefits. With proper care, patients can expect their full mouth dental implants to last them many years. The implant is so successful because it mimics the natural function of real teeth. The implant post is surgically placed into the jawbone to stimulate bone growth and firmly hold the implant in place. Then a dental crown or bridge will restore the implant, giving patients biting and chewing power, plus the ability to speak and smile with confidence.
Patients seeking skilled oral surgeon in Plymouth, MA, Sandwich, MA or surrounding areas are invited to schedule a consultation with Dr. Lane by calling 508-746-8700 or visiting http://www.laneoralsurgery.com.
About the Oral Surgeon
Lane Oral Surgery offers oral and maxillofacial surgical care at their offices in Plymouth, MA and Sandwich, MA. Renowned oral surgeon, Dr. William Lane graduated from Harvard University, received his doctorate from Boston University, and completed his residency training in oral and maxillofacial surgery in a combined program at Boston University and Tufts University. Dr. Lane created the revolutionary SmileOn!™ same-day full mouth dental implant solution to help patients with missing teeth regain their smile, confidence, and normal dental function. In addition to his SmileOn! solution, Dr. Lane offers bone grafting, wisdom teeth removal, and full mouth reconstruction. The entire team at Lane Oral Surgery is devoted to restoring and enhancing the natural beauty of smiles. To learn more about Dr. Lane, his practice, and the services offered at Lane Oral Surgery, visit http://www.laneoralsurgery.com or call 508-746-8700 to schedule a consultation.