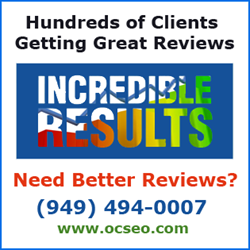 If your customers are not sending you regular feedback and reviews, you are missing out on crucial data about your business.
(PRWEB) May 21, 2014
Google's changes over the past few years have caused some companies to despair of ever having high search engine rankings, let alone provide their customers a positive experience. Fortunately, the Orange County SEO company has been able to help hundreds of clients navigate the search engine changes, the advancing of Internet technology, and help clients achieve high search engine positions to increase business growth, and the company has the positive client reviews to prove it.
Customers of OC SEO have good things to say about this search engine optimization company. Not only has the Internet marketing firm in Orange County been receiving their own positive feedback for their work with clients, businesses participating in the agency's programs are now benefiting from the recently introduced review program implemented for clients involved in SEO services.
What does the review program entail?
Through a combination of digital journalism, social media marketing, and backend sales follow-up processes, SEO client customers are encouraged to provide feedback and reviews of the businesses on various social channels and review sites that are optimized for the client.
How is the review program implemented?
Depending on the type of client website, whether the business model is a lead generation site collecting form submissions, or an ecommerce store offering products for purchase, OC SEO implements a CRM (customer relationship management) system designed to follow up with customers or leads after they submit their information or make a purchase. In these follow up communications, clients and customers are asked questions about how the company has performed, and how they like the product or service. Example questions include:

Were all questions answered in the sales process?
Was the product properly explained before the purchase?
Was the order delivered on time?
What rating would be give for the customer service?
These, and a few dozen other general and specific questions are utilized to source the right information, at the right time, allow the business owner or management team to understand more in depth information about how the business is operating.
How are these review questions determined?
Typically, the digital marketing firm uses an appropriate combination of generalized questions they have tested and proven to acquire the right information during the post sale or purchase process. In some cases, OC SEO has been able to reach out directly to their clients' customers on behalf of their clients, in an effort to source valuable feedback directly and formulate the right follow up questions. Receiving this information straight from customers has allowed the agency to organize precise questions that apply to the specific needs of the business at hand, therefore allowing them to enhance their overall business model.
What about Orange County SEO Reviews?
In order to collate the responses that customers have for their services, the company asks their clients to take a short survey that helps management understand the experiences business owners have had with them.
The recent explosion of positive reviews about OC SEO is grounded in the company's fierce technical ability and high-quality professional customer service.
For More Information:
Orange County SEO Company, Inc
16400 Pacific Coast Hwy. Suite 218
Huntington Beach, CA. 92649
(949) 494-0007
http://www.ocseo.com
CrunchBase