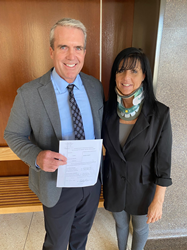 Our client's neck injury and resulting surgeries have forever changed her previously very active life. We argued for a seven-figure verdict based on the effect of the injuries on her life. This was her first and only chance to obtain compensation to provide some monetary relief. - Eric V Traut
SANTA ANA, Calif. (PRWEB) November 15, 2022
In a recent civil jury trial, Orange County Trial Lawyer Eric V. Traut of Traut Firm won a $5.2 Million Verdict on October 27, 2022, for the plaintiff (Lisa Kozy) against the defendant (County of Orange) in the Orange County Superior Court. As the result of a 2019 car collision, the jury awarded Traut's client, Lisa Kozy, one of the largest verdicts in California for a spine injury victim (Case No: 30-2019-01062012-CU-PA).
The trial lasted six days, after nearly three years of litigation and delays due to Covid. Ms. Kozy endured three neck surgeries, from which she is still recuperating, and was awarded this significant but fair sum to cover her past and future medical expenses and for the pain and effects the pain has had on her life. The last settlement offer by the County of Orange was only $150,000.
According to the NHTSA (National Highway Traffic Safety Administration), rear-end collisions are one of the most frequently occurring type of car accident, accounting for approximately 29% of all car accidents.
Nationally recognized Trial Lawyer Eric V. Traut explained, "Lisa Kozy is a wonderful hard-working single mother and grandmother who deserved every penny of the verdict. Her neck injury and resulting surgeries have forever changed her previously very active life. We argued for a seven-figure verdict based on the effect of the injuries on her life. This was her first and only chance to obtain compensation to provide some monetary relief."
After 32 years of practicing trial law, this case resulted in the largest jury verdict the Traut Firm has ever won for a client. The financial damages awarded by the jury include over $1,035,055 for medical expenses (past and future costs) and $4,200,000 in non-economic damages (past and future costs) for a total of $5,235,055.
As an active member of the community, Eric recently received praise for his involvement as Co-Chair of the Orange County Bar Association 2022 College of Trial Advocacy program. This well-known annual legal training course is designed to teach lawyers how to prepare for and try cases. The program is typically hosted by Chapman University, Fowler College of Law.
In addition, Eric V. Traut was also recently elected to the Orange County Bar Association's Board of Directors for a three-year term beginning January 2023. Eric looks forward to representing other legal professionals and upholding the OCBA's mission to enhance the system of justice – "to support the lawyers who serve it, and to assist the community served by it."
MEDIA CONTACT: Eric Traut, 714-835-7000
ABOUT: Orange County Attorney and Partner Eric V. Traut distinguished himself early as one of the top trial attorneys in Southern California when he was recognized as the youngest winner of the prestigious Trial Lawyer of the Year award in the history of the Orange County Trial Lawyer Association. He has been selected by his peers to the list of Super Lawyers, including the "Top 50 Orange County" and "Top 100 Southern California" lists that featured him in Los Angeles Magazine consecutively from 2005 to the present. In addition, Eric was the youngest member ever admitted to the American Board of Trial Advocates (ABOTA) at the age of 33, and served as President of the Orange County Chapter of ABOTA in 2010. Presently, Eric serves as the President of the Orange County Bar Foundation, a non-profit organization strengthening Orange County youth and families through unique, award-winning health and education programs. In 2008, Eric was named as Alumni of the Year at Western State University Law School, and was inducted in the school's "Hall of Fame" in 2013. He is a recipient to the Angelo Palmieri Award for Civility from the Banyard Inn of Court and was the first lawyer to be awarded the OC Look award by Orange Coast Magazine, an award given to those individuals who exemplify success and style in Orange County. Eric has been a speaker at countless seminars on litigation and trial skills, and published multiple articles on strategy and practice. Eric is rated AV Preeminent by Martindale Hubbell's, and is among fewer than 100 California attorneys certified by the National Board of Trial Advocacy as a civil trial specialist. Eric has handled high-profile cases that have resulted in appearances on Good Morning America, Fox News, Court T.V., and ABC's "Primetime." https://erictraut.com/about-marquee
ABOUT TRAUT FIRM: Partners of Traut Firm have litigated cases for a combined 76 years, serving as plaintiff's attorneys primarily in areas of personal injury, legal malpractice, vehicle accidents and workplace accidents. https://trautfirm.com